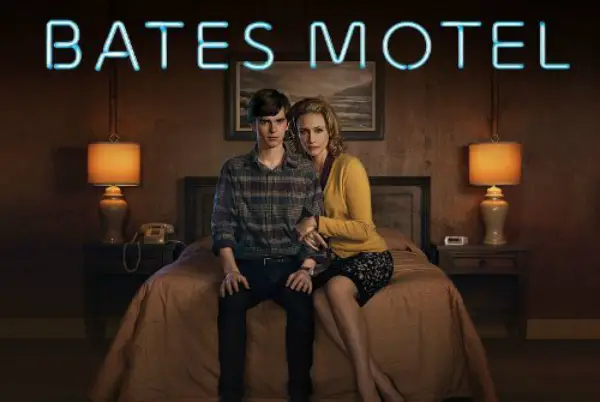 Despite Valentine's Day being ready to pounce on us, the latest additions to the Netflix streaming library are short on romance and real heavy on guy-centric goodies, especially for the over 40 set. Probably the biggest and best new addition is season one of Bates Motel, the A&E series that focuses on a young Norman Bates (of Psycho fame) and the relationship with his mother.
The Croods, a 2013 animated adventure centered around a prehistoric family, is the other notable recent release now streaming. After that it's a big feast for dad, with titles like The Good, the Bad, and the Ugly, Airplane, and MASH. Here's a look at some of the notable new additions to the Netflix streaming library since February 1, with their Netflix-written descriptions.
Bates Motel: Everyone knows what happened in Psycho, but this chilling series takes viewers inside Norman Bates' world before Marion Crane checked in. The story opens following Mr. Bates' death, as Norman and his mother buy the motel that will bear their name.
The Croods: When an earthquake obliterates their cave, an unworldly prehistoric family is forced to journey through unfamiliar terrain in search of a new home. But things for pessimistic dad Grug go from bad to worse when his daughter meets a clever cave boy.
The Borgias (seasons 1-3): Oscar-winning director Neil Jordan helms this lavish period drama series about the notorious Borgia family, a clan headed by plotting patriarch Rodrigo, who will stop at nothing to become pope, and his beautiful but treacherous daughter, Lucrezia.
The Good, the Bad and the Ugly: While the Civil War rages between the Union and the Confederacy, a quiet loner, a ruthless hit man and a Mexican bandit comb the American Southwest in search of a strongbox containing $200,000 in stolen gold.
Fistfull of Dollars: The first film in director Sergio Leone and star Clint Eastwood's "Man with No Name" trilogy finds a world-weary gunman in a town torn apart by warring gangs. He agrees to work for both sides, ultimately pitting the two factions against each other.
North Dallas Forty: Wide receiver Phil Elliott is fighting to keep his career off the sidelines in this gritty gridiron classic. Elliott has done it all: drugs, booze, playing through injuries. But now he's asking questions management doesn't want to answer.
Patriot Games: CIA desk jockey Jack Ryan plunges into the heart of international terrorism after spoiling an assassination attempt on a British royal family member. Ryan's heroics earn him noble gratitude — and a death warrant from the Irish Republican Army.
The Usual Suspects: When five unacquainted crooks are hauled into a police station to appear in a criminal lineup, they decide to pull off a heist together. The plan gets complicated, however, when they intermix with an underworld kingpin named Keyser Söze.
Bull Durham: The perennially pitiful Durham Bulls ink pitching phenom "Nuke" LaLoosh (Tim Robbins), a gifted but undisciplined rookie, in hopes that he'll usher the team to victory. But it's up to seasoned bush-league catcher "Crash" Davis (Kevin Costner) to keep him in line. Meanwhile, a winsome groupie (Susan Sarandon) who confers sexual favors on a new player each season chooses Nuke as this year's beneficiary. The problem is, she's more attracted to Crash.
MASH: Director Robert Altman's thinly veiled Vietnam War satire is indicative of when the spirit of the 1970s went mainstream, with Elliot Gould, Donald Sutherland and Tom Skerritt as Army doctors fighting military insanity and healing wounded soldiers during the Korean War. Featuring an Oscar-winning score and standout work from a huge ensemble cast (including Robert Duvall and Sally Kellerman), M*A*S*H is a masterpiece of '70s cinema.
The Naked Gun: While seeking his partner's ruthless killer, incredibly thick police officer Frank Drebin finds an equally dim-witted love interest and stumbles upon on a sordid plot to off Queen Elizabeth.
Airplane!: In this classic, joke-a-second parody of disaster movies, traumatized former combat pilot Ted Striker, an airplane passenger, is forced to land the plane when food poisoning strikes the crew and there's no one else on board who can do the job.
Brother Bear: In this animated tale, the brother of an Indian brave killed by a bear vows revenge but is transformed by the Great Spirits into the very thing he sought to slay. As he attempts to regain human form, he begins to see the world from a new viewpoint.