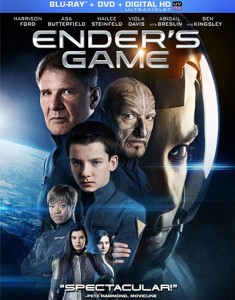 Want to know what new titles you can get on Blu-ray Disc this week? Summit/Lionsgate have released Ender's Game starring Harrison Ford, Asa Butterfield, and a tattooed Ben Kingsley. The two-disc set contains a Blu-ray, DVD and Digital HD copy via UltraViolet code.
The BBC's Sherlock: Season 3 hits shelves in a two-disc edition. The series stars Benedict Cumberbatch, Martin Freeman, and Rupert Graves. Oscar-nominated All Is Lost starring Robert Redford has also been released to Blu-ray Disc and includes an UltraViolet code to download a Digital HD copy.
And, Disney's animated classic The Jungle Book is now available on Blu-ray Disc for the first time in the US. The two-disc Diamond Edition contains a high-definition Blu-ray Disc, standard-def DVD (for those laptops and car DVD players), and an UltraViolet access code to download a Digital HD copy.
See our picks for the week below. And, here's a link to all new Blu-ray Disc releases available at Amazon.
New on Blu-ray Disc & UltraViolet, Feb. 11, 2014
Ender's Game

The Jungle Book (Two-Disc Diamond Edition)

Sherlock: Season Three

All Is Lost

The Best Man Holiday

Counselor

The Americans: Season One

Austenland

Young Detective Dee: Rise of the Sea Dragon

Chicago

Khumba (3D/2D Blu-ray/DVD Combo)

Shawn Michaels Wrestlemania Matches

Wadjda

Adventurer: Curse of the Midas Box

The Returned

Rocky Heavyweight Collection