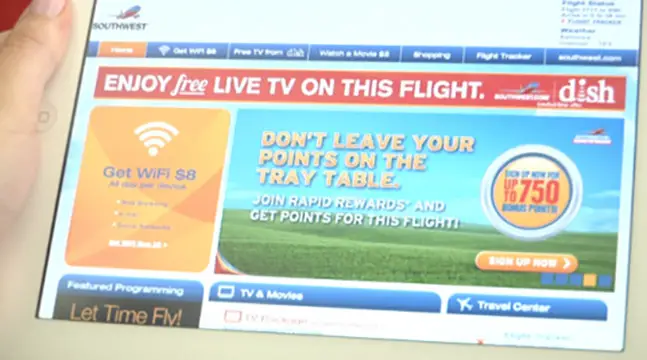 If you're a frequent flyer aboard Southwest Airlines you'll be able to enjoy free access to TV channels and On Demand shows compliments of Dish. Using an Android or iOS mobile device, passengers can opt to connect to a Southwest flight's Wi-Fi service and choose between live TV (somewhere around 13 to 20 channels), and up to 75 On Demand shows.
You won't find the service on every flight, but the company says almost 440 aircraft have been equipped with Wi-Fi.
Internet access typically costs $8 per day and movies $5 per title, so the Dish promotion is a nice perk for flying Southwest. If you purchase Wi-Fi, however, don't plan on watching anything you want via Netflix or other video website. Like other airlines, bandwidth-hungry video services are blocked from the in-flight Wi-Fi.
Dish and Southwest launched the "TV Flies Free" promotion last summer, and both companies have agreed to extend the viewing throughout 2014.
"Since the FAA changed its rules regarding personal electronic device usage, mobile video viewing on Southwest Airlines flights has increased more than 20 percent," said James Moorhead, DISH Chief Marketing Officer.
The connectivity is possible through Ku-band satellite technology, provided by Southwest partner Global Eagle Entertainment, Inc.