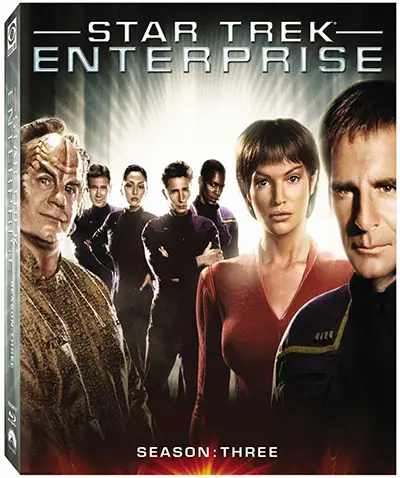 Sorry to be so late this week on new Blu-ray releases, but CES 2014 has got us pretty busy. There are some noteworthy titles we want to mention especially in the television space. For one, Star Trek: Enterprise – Complete Third Season has hit shelves. The 6-Disc set from Paramount includes all 24 episodes of the season that aired from 2003-2004. List price for Star Trek: Enterprise – Complete Third Season  on Blu-ray is $129.99, but Amazon is currently selling it for $57.99.
Also under TV releases this week, Archer: The Complete Season Four, Duck Dynasty Season Four, Copper: Season 2, Being Human: Complete Third Season, and The Following: The Complete First Season starring Kevin Bacon are all now available to purchase on Blu-ray Disc.
In movies, Thanks for Sharing starring Gwyneth Paltrow and Tim Robbins, Runner Runner starring Justin Timberlake and Ben Affleck, and Closed Circuit with Eric Bana and Rebecca Hall have all been released to Blu-ray.
Many of the titles released this week also contain Digital HD Copies to download from the cloud via UltraViolet license code.
Check out our picks for the week below. And, here's a link to all new Blu-ray Disc releases this week at Amazon.
New on Blu-ray Disc, Jan. 7, 2014
TV
Star Trek: Enterprise – Complete Third Season
Duck Dynasty Season 4
Archer: The Complete Season Four
The Following: The Complete First Season
Copper: Season 2
Being Human: Complete Third Season
Movies
Runner Runner
Wicker Man
Coal Miner's Daughter
We Are What We Are
Tequila Sunrise
Killing Fields: 30th Anniversary
The Act of Killing
Throne of Blood (Criterion Collection)
The Hurricane (Blu-ray + Digital UltraViolet)