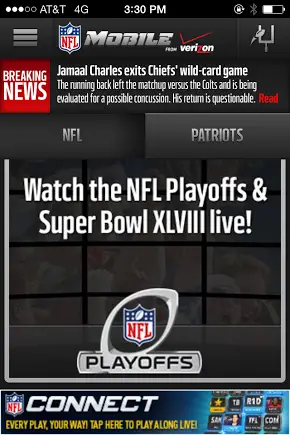 A required update has been issued for the NFL Mobile app for both Android and Apple iOS devices. The app, unfortunately, will not open unless you update to Version 8.3.1 (Android) and Version 8.8.3 (iOS) — both free applications. Not much is mentioned about the new features of the required updates, only that both versions were "Updated to support postseason games."
That means if you tried to access the app before or during today's first two NFL Wildcard Playoff weekend games, you'd have to download and run the auto-install before opening the application.
The Android app, updated January 3, is a 27 MB file available to download free at the Google Play store.
The iOS app, also updated January 3, is a 43.5 MB file available for free on Apple iTunes.
The NFL Mobile app is compatible with Android 2.3.3 or later and Apple iOS 5.0 or higher.
Get more sports and entertainment app news on our dedicated category.