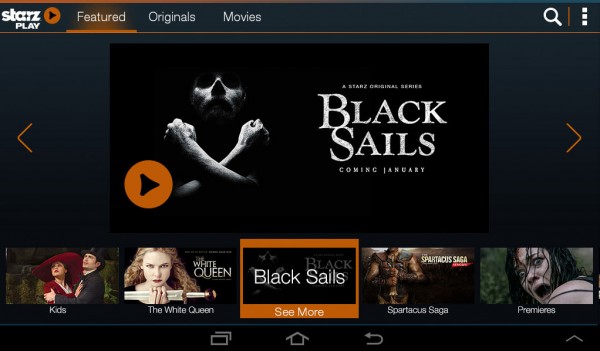 Premium movie network Starz has announced the STARZ Play online service has launched for the Xbox 360 via Xbox Live. And, Starz execs promise support for Xbox One is a "top priority" for 2014. The application's interface incorporates full voice and gesture support for Kinect, with access to about 1,500 movies and TV show titles.
STARZ Play is available as free download for Xbox Live Gold members. Of course, you'll need a subscription to Starz channels through your TV service provider to authenticate.
Starz says applications are also in development to deliver programming from the network's sister channels Encore and Movieplex. Starz Xbox 360 support is expected to launch for ENCORE Play and MOVIEPLEX Play by the end of the first half of 2014.
The 360 is the first gaming console to offer the internet-based service. Other devices the STARZ Play app supports (as well as ENCORE Play and MOVIEPLEX Play) include PCs and Macs, iPhone, iPad & iPod touch, select Android handsets and tablets, Kindle fire, Kindle Fire HD, NOOK HD, NOOK HD+, and Google Nexus 4, 7, and 10 models.
Source: Starz