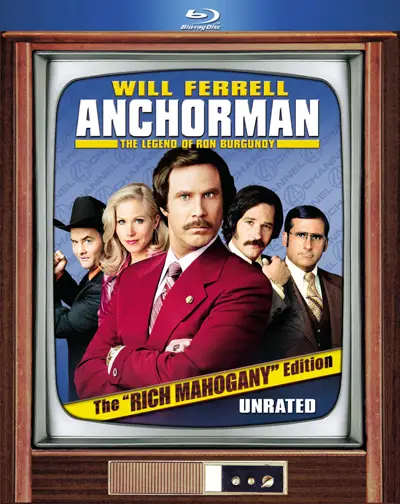 Story idea: Why don't restaurants serve apples anymore?
This line made me laugh, but it's not from Anchorman: The Legend of Ron Burgundy – The Rich Mahogany Edition, it's from Mr. Burgundy's diary that accompanies this 2-disc Blu-ray set that had been a Best Buy exclusive until today. Of course, Anchorman 2: The Legend Continues will be hitting theaters Dec. 18, but between the Dodge ads and Will Ferrell appearances on local newscasts, you probably knew that already.
The Movie
If you somehow have never seen Anchorman, get cracking. You must also be wondering where all these quotable lines have come from over the past 9 years, like "Stay classy." Here's your chance to find out.
Set in the 1970s, Anchorman tells the comical tale of news anchor Ron Burgundy, a fairly stupid yet very popular San Diego news anchor. When his chauvinistic views and job get threatened by up-and-coming anchor Veronica Corningstone (Christina Applegate), the conflict begins. The supporting cast of Steve Carrell, Paul Rudd, David Koechner, and others is superb. The dialogue they're given by writers Ferrell and Adam McKay ranges anywhere from chuckle-worthy to hysterical.
But of course this movie is all about Ron Burgundy, and almost a decade later, it's clear this is Will Ferrell's hallmark character, and a damn funny one at that. In my opinion, Anchorman — brace yourself — is probably one of the 50 best comedies of all time, and certainly one of the best over the past decade.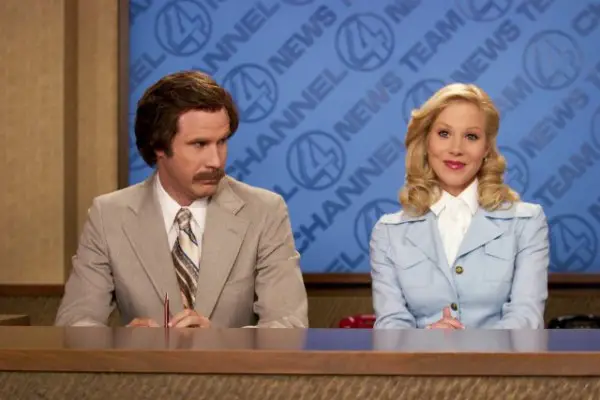 Video
Anchorman's 1080p image looks great, but this being (or pretending to be) the 70s, there seems to be a general softness, a bit of grain, or a tinge of visual nostalgia if you will, applied to the film. It certainly fits the theme, but it's not the kind of disc you'll wow anyone with.
Audio
The DTS-HD Master Audio 5.1 mix doesn't get a lot of chances to work your surround speakers, but it all sounds pretty solid. I had forgotten how much music is in Anchorman, and if you enjoy your 70s tunes as much as I do, you'll really like the audio selections here.
Menus, Extras, and Packaging Menus
Be warned, if you don't wanna spoil a single laugh for Anchorman 2, get ready with the skip button, as a trailer for the sequel auto-plays before the menus hit. The menus feature a couple of minutes of Ferrell ad-libbing at his desk. Funny stuff.
The Rich Mahogany edition features a treasure trove ton of extras. This is about as good as it gets. You get the original theatrical version, an unrated cut, and the real treat here, Wake Up, Ron Burgundy: The Lost Movie, a full-length feature that was assembled from unused footage shot during the filming of Anchorman.
Add in 36 deleted scenes, the "Afternoon Delight" recording session, 12 collectible trading cards, and much more and you get a spectacular set for any fan of the film. Since the diary and cards are included, that beefs up the packaging to the levels of say, a typical 3- or 4-disc set. The slip case that holds the standard Blu-ray case and the other goodies is thicker than The Godfather trilogy box set, for example.
Summary
It's a crime that this awesome set was claimed for Best Buy shoppers only until now. The movie is a comedy classic, the A/V aspects are very good, and the extras are superb. Pour yourself a glass of scotchy scotch scotch and treat yourself to this one.
Overall Score
8.5 (out of 10)