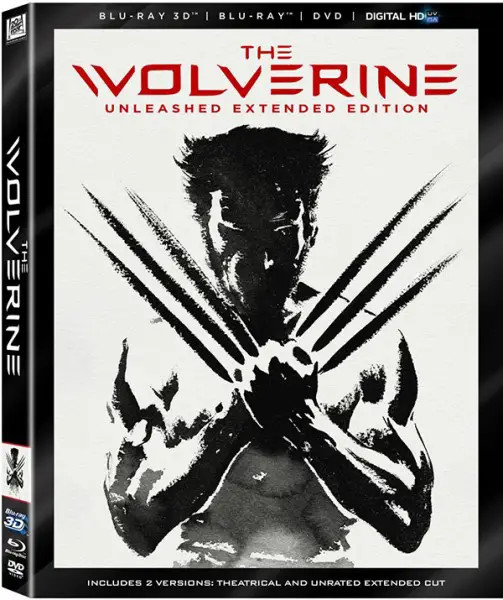 There's some good stuff on Blu-ray this week, just in time for the holidays. The Wolverine starring Hugh Jackman is available in both Blu-ray and Blu-ray 3D editions from 20th Century Fox – each edition comes with DVD and Digital HD copies. In addition, the 'Unleashed Extended Edition' contains both the theatrical and extended unrated version of the film. For diehard Wolverine and X-Men fans there's also the Limited Edition X-Men: The Adamantium Collection. The 7-Disc collection includes all 6 X-Men films along with a bonus disc (containing a one-hour documentary), and extra empty disc slot for the upcoming film X-Men: Days of Future Past. But the most eye-catching feature of this limited edition is the set of Wolverine claws.
In anticipation of the theatrical release of Anchorman 2, Dreamworks has released Anchorman: The Legend of Ron Burgundy in an Unrated Rich Mahogany Edition. The special edition from the 2004 film contains 36 extended and deleted scenes, Ron's personal 32-page diary, and a set of 12 trading cards.
Argo: The Declassified Extended Edition Blu-ray has been released from Warner Home Video that includes Blu-ray, DVD, and UltraViolet Digital HD Copy. The special 2-Disc edition also includes a movie poster reproduction, an ID card prop replica, a map of movie locations, and booklet.
Other top titles this week include The Mortal Instruments: City of Bones, The Smurfs 2, Simpsons: Season 16, Al Pacino in Serpico (1973), and Nashville from Criterion Collection. Check out our top picks below. And, here's a link to all new Blu-ray Disc releases this week available at Amazon.
Top Blu-ray Releases, Dec. 3, 2013
The Wolverine (Blu-ray/DVD/Digital HD)
The Wolverine – Unleashed Extended Edition (Blu-ray 3D/Blu-Ray/DVD/Digital HD/Digital Copy)
The Mortal Instruments: City of Bones (Two Disc Combo: Blu-ray/DVD/UltraViolet Digital Copy)
The Smurfs 2 (Two Disc Combo: Blu-ray/DVD/UltraViolet Digital Copy)
The Smurfs 2 (Three-Disc Combo: Blu-ray 3D/Blu-ray/DVD/UltraViolet Digital Copy)
X-Men: The Adamantium Collection (Limited Collector's Edition)
Simpsons: Season 16
Argo: The Declassified Extended Edition
Nashville (Criterion Collection)
Anchorman: The Legend of Ron Burgundy (Unrated Rich Mahogany Edition)
Investigation of a Citizen Above Suspicion (Criterion Collection)
Duck Dynasty: Seasons 1-3 Collectors Set with Limited Edition Duck-Camo Bandana
2013 World Series Collector's Edition
Transformers Prime: Season Three
Truth About Love Tour: Live From Melbourne (Pink)
Saturn 3 (1980)