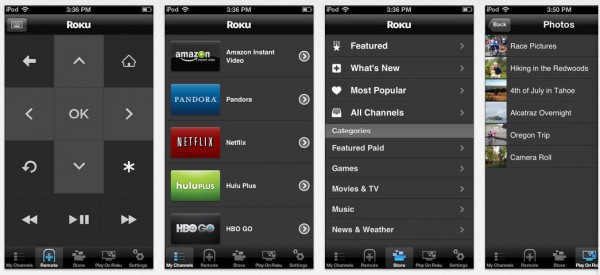 Roku has issued an app update for iOS and Android devices that's worth a look. On both platforms, the app now allows the categories and contents of the Channel Store to match the Channel Store shown on your Roku player. For anyone who has accessed both store views, this is a nice fix that provides a more consistent user interface.
On Android, the new Version 2.4 update adds support for Samsung Galaxy S2, Motorola Moto X, Samsung Galaxy Tab 2, Samsung Galaxy Note 2, and Google Nexus 7 (2013) devices. The app also no longer requires camera permissions. The Roku app is available for free at the Google Play Store, but you'll need a Roku account to activate.
On iOS, the newest Version 2.4.1 fixes a problem with the app crashing. The previous updated Version 2.4 included the Channel Store improvement mentioned above as well as fixed several bugs related to iOS 7. The iOS app is available for free on Apple iTunes.
The Roku app essentially turns your supported Android or iOS devices into an advanced remote control, allowing you to browse channels, view photos and videos from your phone, listen to music, and use some gestures to control your Roku player, among other features.