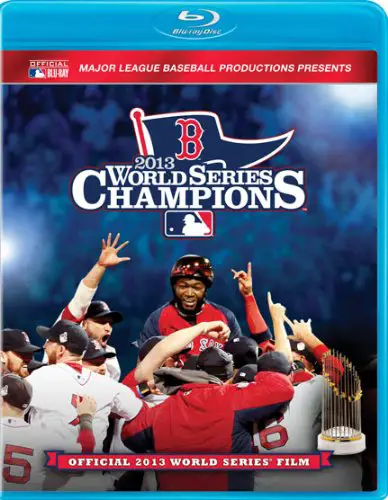 Here's what's new on Blu-ray Disc this week. Sony Picture's Breaking Bad television series is available as a 16-disc set that comes in a collectible money barrel, with over 55 hours of special features from all seasons, a new two-hour documentary, 16-page booklet, and additional extras. If you already own previous seasons, Breaking Bad's final season is available in a 2-Disc set that contains all episodes from the 2012/2013 season. Both editions of Breaking Bad also include UltraViolet digital copies of the shows to download or stream from the cloud.
Red 2 also hits shelves on Blu-ray today. The 2013 film boasts an all-star cast with Bruce Willis, John Malkovich, Helen Mirren, and Anthony Hopkins among others. The 2-Disc Combo from Summit Entertainment/Lionsgate includes Blu-ray, DVD, and Digital HD Copy via UltraViolet.
Red Sox fans will want to pick up the official MLB 2013 World Series Champions Blu-ray edition. The film captures some of the greatest moments in the series that brought Boston the first World Series win in Fenway since 1918.
And, Jobs starring Ashton Kutcher as Steve Jobs is available on Blu-ray today, and also comes with an UltraViolet digital copy of the film for viewing on PCs, tablets, phones, and other mobile devices.
Those are our top picks for the week. Here's a link to see all new Blu-ray Disc releases available at Amazon.
New Bu-ray Disc releases Nov. 26, 2013.
Breaking Bad: The Final Season

Breaking Bad: The Complete Series

Red 2

Jobs

2013 World Series Film

Wolf Children

Zatoichi: The Blind Swordsman (Criterion Collection)

Bill Cosby… Far From Finished

Getaway

Agatha Christie's Poirot: Series 10

Murdoch Mysteries: Season Six

Canyons

Galapagos With David Attenborough 3D

George Carlin: Life's Worth Losing