Pop quiz: Thanksgiving is a time to A) Enjoy a feast with family  B) Watch the parade and football C) Sneak out the back door and hit Walmart before sundown
Of course there's technically no right answer, but the push to turn Thanksgiving into a full-blown day for retail sales took a sizable leap forward this year, and in the process has also created a backlash. Walmart, Target, Best Buy, Toys R Us, Kmart, Old Navy, Sears, JCPenney, Kohl's, and Macy's are all opening at some point Thursday. Is this what the people want? At least one new poll says no. The YouGov/Huffington Post survey of 1,000 US adults found 74% of them preferred retailers stay closed on Thanksgiving. 'Say No to Shopping on Thanksgiving' has more than Facebook 52,000 Likes, and the 'Pledge Not to Shop' graphic above has gained popularity.
But as the tech-hungry, media-consuming, deal-seeking retail warrior you are (and I am too), the little devil over your shoulder still wants you to check the ads and see if maybe, just maybe, there's something on sale worth busting down a door for. But guess what? There's not.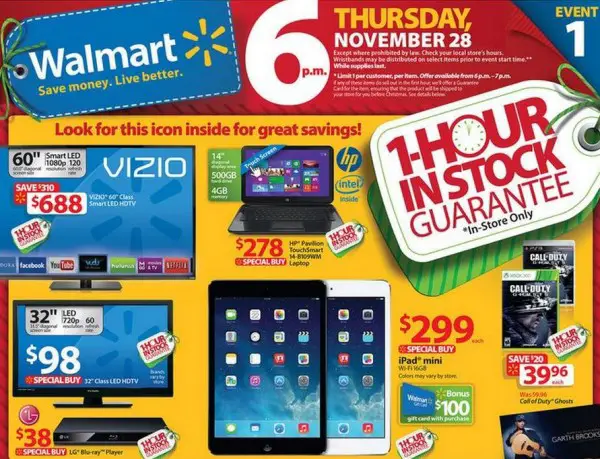 Is $688 for the 60″ Vizio E601i-A3 a good deal? You bet. It's $998 right now. But Amazon will also have it for $688, and according to the most recent statistics I could find, no one has ever been trampled during a Lightning Deal. Plus, these days we regularly see big price cuts on TVs and electronics year-round. If you think you won't see another stellar deal on tablets or laptops between now and the Super Bowl, you're mistaken. Still, if you'd like to see some early Black Friday deals, check out this list of discounted 4k TVs at Amazon, and other Pre-Black Friday HDTV deals.
Perhaps the backwards creep of Black Friday will take this ready-set-go trend before Thanksgiving sooner than later. Maybe in future years the frenzy will start November 1, and Thanksgiving will reclaim its glory as a day for peaceful comfort. But for now, you'll have to decide whether to let the pressure of retail sales squeeze the warm fuzzy stuffing out of this cherished American holiday.