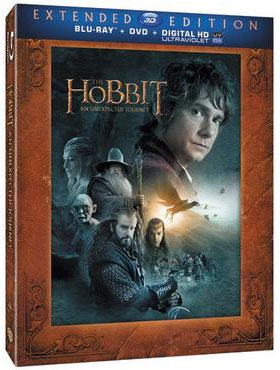 It's a good day for Blu-ray Disc with so many great titles hitting shelves today. First, for those of you who waited so patiently, The Hobbit: An Unexpected Journey (Extended Edition) is now available in three different editions including a 3-Disc Blu-ray boxed set, 5-Disc Blu-ray 3D boxed set, and a special Amazon Exclusive Limited Edition with Bilbo & Gollum statue. All three of the editions from New Line Home Video also includes lots of bonus material and UltraViolet digital copy to download from the cloud.
Twilight Forever: The Complete Saga Box Set has also been released today. The 10-disc boxed set from Summit Entertainment includes loads of extras including documentaries, deleted scenes, interviews, music videos and more (with over 2-hours of never-before-seen content). The set carries a list price of $74.99 but is on sale at Amazon right now for $44.99 (that's 40% off the list price).
Other titles now on Blu-ray Disc include Grown Ups 2, Mad Men: Season Six, White House Down, The Right Stuff (30th Anniversary Edition), Parkland, and the Doctor Who: Series 1-7 Limited Edition Blu-ray Giftset.
Check out our picks below. And, as always, here's a quick link to all new Blu-ray Disc releases this week available at Amazon.
Blu-ray Disc releases Nov. 5, 2013
The Hobbit: An Unexpected Journey (Extended Edition)
The Hobbit: An Unexpected Journey (Extended Edition) (3D)
The Hobbit: An Unexpected Journey Extended Edition with Limited Edition Amazon Exclusive Bilbo/Gollum Statue
Grown Ups 2
Twilight Forever: The Complete Saga Box Set
Mad Men: Season Six
White House Down
The Right Stuff (30th Anniversary Edition)
Parkland
Doctor Who: Series 1-7 Limited Edition Blu-ray Giftset
Live at Luna Park (Dream Theater)
The Best Years of Our Lives (1946)