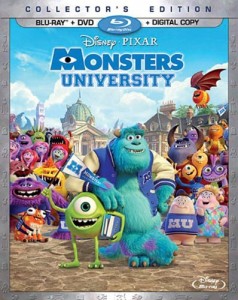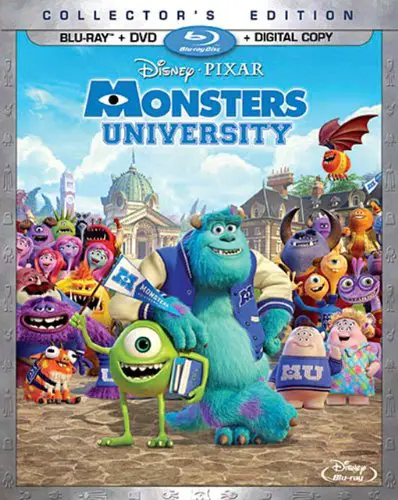 This week Disney's Monsters University is available in several Blu-ray collectible editions including a 4-Disc Blu-ray 3D/Blu-ray/DVD/Digital Copy pack, 3-Disc Blu-ray/DVD/Digital Copy pack, and 2-Disc Blu-ray/DVD pack. The film features voice overs from Billy Crystal, John Goodman, Steve Buscemi and Helen Mirren, and was one of last summer's most successful theatrical releases, earning $740M worldwide.
R.I.P.D. starring Jeff Bridges, Ryan Reynolds, and Kevin Bacon is available in Blu-ray 3D or standard Blu-ray Disc. The 3-Disc and 2-Disc editions from Universal Studios also include DVD, and UltraViolet Digital Copies to download from the cloud.
And for those of you with 3D TVs, in addition to the two titles above, you can also pick Cars 3D: Ultimate Collector's Edition – a newly-released 3D version of Disney's 2006 animated film Cars. The 3-Disc edition includes Blu-ray 3D, Blu-ray, DVD, and Digital Copy of the film.
See our picks for the week below. And, as always, here's a link to all new Blu-ray Disc releases available at Amazon.com.
New Blu-ray Disc releases, Oct. 29, 2013
Monsters University (Blu-ray 3D & Blu-ray)

R.I.P.D. (Blu-ray 3D & Blu-ray)

Springsteen & I

Cars 3D: Ultimate Collector's Edition (Blu-ray 3D)

Move Me Brightly: Celebrating Jerry Garcia's 70th Birthday

La Notte (Criterion Collection)

Byzantium

Agatha Christie's Poirot: Series 9

Live On This Winter's Night (Lady Antebellum)

WWE: Straight to the Top: The Money in the Bank Ladder Match Anthology