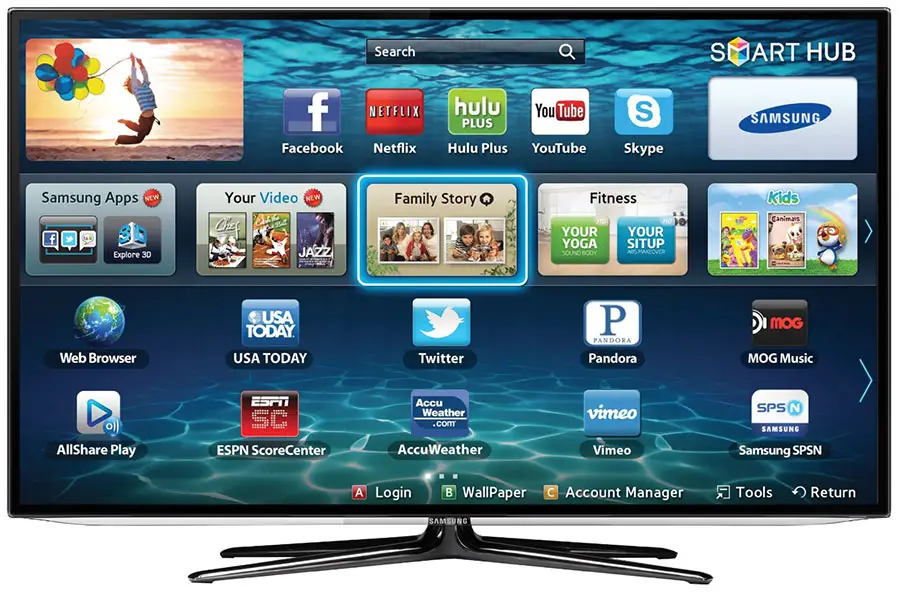 DirecTV is promoting new smart TV technology that allows RVU-enabled HDTVs to display live programming, as well as recorded and On Demand titles, without the use of a set-top box. Several Smart TV models from Samsung and Sony feature the RVU option that can be connected to the main DirecTV Genie Whole-Home HD DVR without having to use a Genie Mini device for each client TV set.
Many new Samsung model HDTVs include RVU support, including models from the 6000, 7000, 8000, and 9000 series from 2012 and 2013. Three Samsung models from 2011 that support RVU include the D6000, D6400, D6420. Sony's Bravia R550A and R520A series also ship RVU-enabled. (See the full chart of supporting TVs below.)
You may want to update your HDTV's to the latest firmware version if you plan on using the RVU option. And, you'll have to call DirecTV to get an additional TV set up using RVU.
The RVU Alliance was founded by Broadcom, Cisco, DirecTV, and Samsung.
List of RVU-enabled Smart TVs supporting DirecTV
| Brand | Year | LED (LCD inclusive) | Plasma |
| --- | --- | --- | --- |
| Samsung | 2011 | D6000, D6400, D6420 | Not Supported |
| | 2012 | ES6100, 6150, 6500, 6550, 6580, 6900, 7100, 7150, 7500, 7550, 8000, 9000 | E6500, 7000, 8000 |
| | 2013 | F5100, 6100, 6300, 6350, 6400, 6800, 7100, 7500, 7550, 8000, 9000, 9500 | F5300, 8500 |
| Sony | 2013 | Sony BRAVIA R550A and R520A series | N/A |
Source: DirecTV