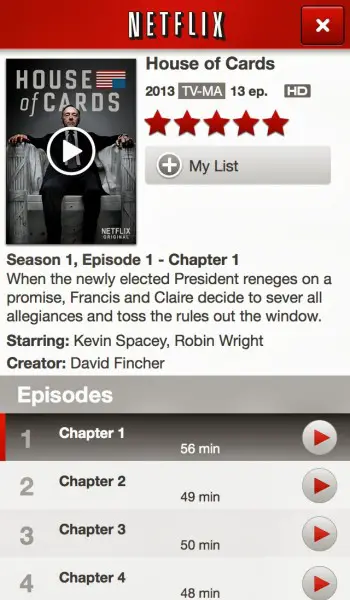 Netflix has released a new version of its app for Apple iOS 7 that adds HD quality video streaming for any iOS 7 device as long as you have enough bandwidth. (Notice the new little "HD" icon in the app screen grab.) The Version 5.0 update also adds AirPlay, the ability to move a title you're watching from your iPhone or iPad to an Apple TV device on the same Wi-Fi network. While in AirPlay mode, you can also use your iPhone or iPad as a remote control, with options to pause, seek, select audio or enable subtitles. And, iOS 7's new lock screen function will let you use other apps while still utilizing the AirPlay feature.
The new Netflix app (25MB) requires iOS 6.0 or higher and is free to download from Apple iTunes. The app is avaialble several different languages including English, Bokmål, Norwegian, Danish, Dutch, Finnish, French, Portuguese, Spanish, and Swedish.
The Netflix app for Android devices (last updated September 6, 2013), doesn't support HD video at this time.
Source: Netflix Blog