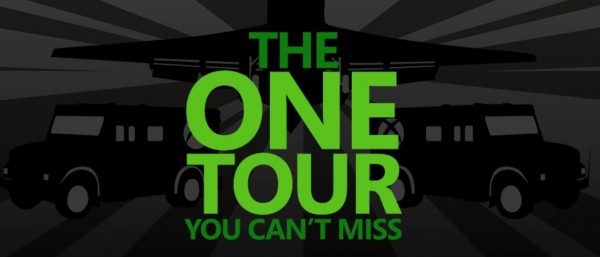 Like a rock star who announced his intentions to start doing more disco, then reversed course after his fans threatened to overturn his tour bus, the Xbox One is taking its show on the road. Starting tomorrow, October 1, Microsoft will be hitting 75 cities worldwide through the end of the year, showcasing its new console. Gamers will get the chance to go hands-on with the Xbox One ahead of its Nov. 22 U.S. launch date and possibly even meet Xbox celebrities like Major Nelson.
In addition to the plethora of "Test Drive" tour stops, special "Area One" events will also be held in several cities. These events will be more robust, with live music and upgraded fanfare in unique venues. Both types of events are free, though "Area One" events will have limited space and are 18 and older only, so bring your ID. The cities designated for "Area One" events include Philadelphia, Toronto, Chicago, Atlanta, Dallas, Phoenix, San Francisco, Los Angeles, London, Vienna, Paris and Berlin.
Gamers will be among the first to get their hands on the launch games for the $500 multimedia system, including titles like "Forza Motorsport 5," "Ryse: Son of Rome," "Killer Instinct," "Dead Rising 3," "Crimson Dragon," "Max: Curse of the Brotherhood," "LocoCycle" and more.
To see where the four decked-out Xbox One trucks will be headed, stay updated on Twitter @XboxOneTrucks.
Area One Tour Dates

Philadelphia: 10.3–10.6
Paris: 10.10–10.13
Toronto: 10.10–10.13
Chicago: 10.17–10.20
Vienna: 10.17–10.20
Atlanta: 10.24–10.27
Dallas: 10.31–11.3
Berlin: 10.31–11.3
Phoenix: 11.7–11.10
San Francisco: 11.14–11.17
Dublin: 11.14–11.17
Los Angeles: 11.21
London: 11.21–11.24