Everything's big in Texas, and that includes HDTVs.  In a bid to get into the technological record books, the Texas Motor Speedway is partnering with Panasonic to create the Big Hoss TV.  With gargantuan dimensions (218 wide x 94.6 high!!) the true 1080p display is capable of displaying 4.8 million pixels capable of creating 281 trillion color combinations.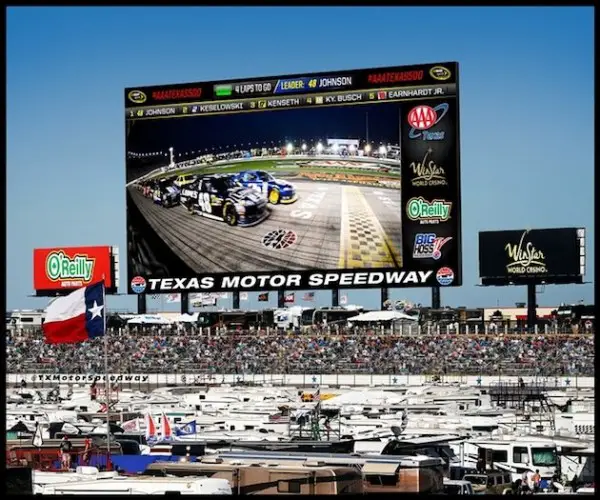 Overall it will take up about 20,634 square feet of space above the speedway's stands, and will blot out more of the sky with advertising and run racing moments than the previous record-holder, the ridiculously large video board at the Charlotte Motor Speedway in North Carolina.  It's 9,000 feet larger than the vaunted Dallas Cowboys' video board at AT&T Stadium (that's Cowboys Stadium to Texans!).  That HD screen, Diamond Vision created by Mitsubishi Electric, is 160 wide x 72 high; 11, 520 square feet… puny to Texans, obviously; however, the ginormous display is double-sided (1080p both sides), so do the math… The Cowboys still have a claim to fame in the tech arena.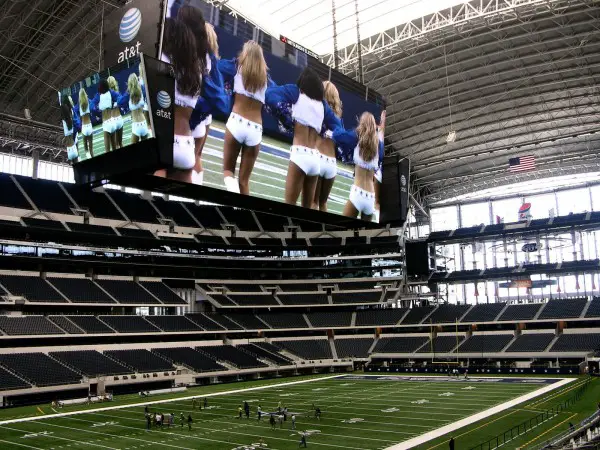 The Big Hoss allow the speedway to show various aspects of races, as well as replays of the action, and will probably be available for wedding and birthday announcements, not to mention a kiss cam.  The windproof and waterproof HD display will need to be particularly bright since it's being built facing into the path of the sun, but that's of no concern to speedway executives, as they feel the display will be as bright as it is big, and that fans will be able to see all the raceway crashes in great detail on video rather than the real life just below the screen (or on their phones, which, sadly is where this writer sees many eyes staring at live sporting events these days).  The Big Hoss is expected to be switched on in April, 2014… by then, it hopefully won't be upstaged by 4K Ultra-HD in the home.