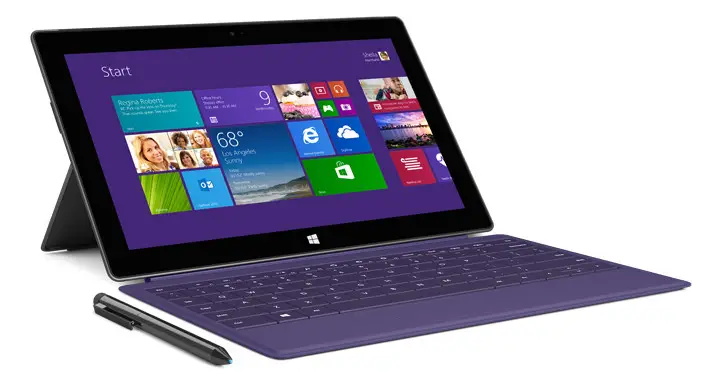 Microsoft has revealed their 2nd generation Surface tablet models, the Surface 2 and the Surface 2 Pro, with base prices starting at $449 and $899, respectively. The tablets will be available for pre-order starting tomorrow, Sept. 24, and will hit retail stores on October 27. Improvements from the 1st generation can be found in processing power, battery life, display and camera resolution, and the dual angle Kickstand.
The Suface 2 is more geared towards personal use, with NVIDIA Tegra 4 processor, battery life to up to 10 hours while watching video, 1080p video on the 10.6-inch ClearType display, USB 3.0 port, and 3.5-megapixel front camera along with 5-megapixel rear camera. The Surface 2 is also lighter and thinner than the original Surface.
The Surface Pro 2 is powered by a 4th-generation Intel Core i5 processor, is rated with 60 percent longer battery than the Surface Pro, and is capable of running the full Microsoft Office suite.
The Surface 2 is available in 32GB and 64GB configurations, while the Surface Pro 2 will be offered in 64GB and 128GB configurations with 4GB RAM, as well as 256GB and 512GB configurations with 8GB RAM.
While sales of the first generation of Microsoft's Surface were dismall, even driving the company to drop prices in order to move inventory, it didn't seem to persuade Microsoft to make the prices more competitive with Apple's iPad and upcoming Android-based tablets.
They have, however, offered a trade-in program which gives iPad owners up to $200 for a 'gently used iPad' towards a Surface tablet. The $200 is actually in the form of a Microsoft Store Gift Card, but customers are encouraged to use it to bring down the price of a Surface. That promotion ends Oct. 27, 2013.
Accessories for the Surface family include the Touch Cover 2, Power Cover, Type Cover 2, Wireless Adapter for Typing Covers, car charger with USB, Arc Touch Mouse, and docking station for Surface Pro.
Including the US, the Surface 2 and the Surface 2 Pro will initially be available in 22 initial markets including Australia, Austria, Belgium, Canada, Denmark, Finland, France, Germany, Hong Kong, Ireland, Italy, Luxembourg, the Netherlands, New Zealand, Norway, Portugal, Spain, Sweden, Switzerland, and the United Kingdom.