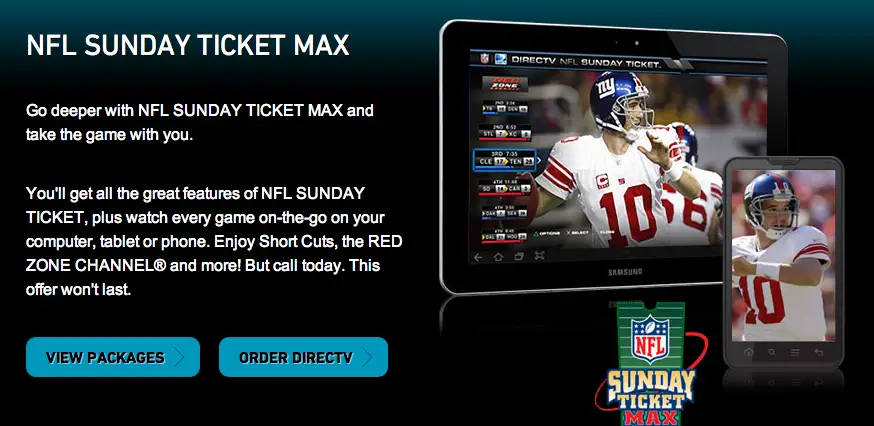 We're just a week away from the opening of the 2013/14 NFL football season, at a time when football fans are debating whether or not to cough up the cost of the NFL Sunday Ticket subscription. But this year, as we learned earlier this month, there won't be an option to purchase the ticket on PlayStation 3. For the last couple years football fans were able to subscribe to the NFL Sunday Ticket for $84.99 every four months (or $199 mid-season) through their PS3 consoles. This year no.
When asked about the diminished partnership, DirecTV's Robert Mercer explained that the NFL would be focusing on enhancing the NFL Sunday Ticket for existing and new customers. While this doesn't work out too well for PS3 owners without DirecTV, the online/mobile subscription is available for non-subscribers. Options went on sale this week for $299.95 (NFL Sunday Ticket Max) or $224.95 (NFL Sunday Ticket). But still, watching an NFL game on a PC or smartphone just isn't the same as watching on a big screen HDTV.
The NFL Sunday Ticket isn't available for Xbox 360 either. However, back at the Xbox One announcement in May, Microsoft announced their alliance with the NFL claiming the new console would "redefine NFL experiences for the fan." Microsoft said they would incorporate exclusive content, SmartGlass, Kinect and integrated fantasy league stats.
Sony hasn't make any such announcements about the upcoming PlayStation 4 console, but you can expect some interesting things to happen with NFL Sunday Ticket in the 2014/2015 season, as DirecTV's contract expires and the NFL considers other bids.