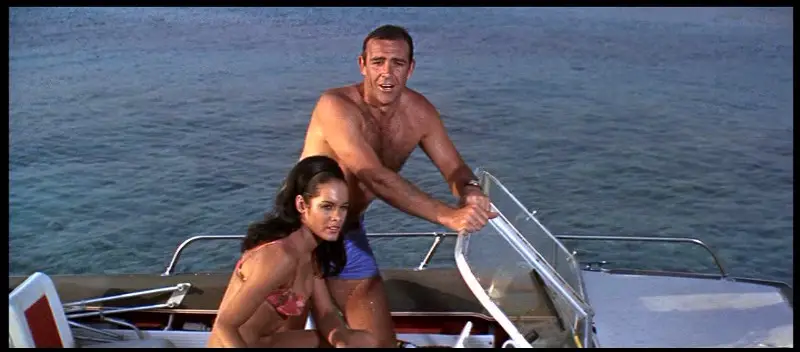 Well that went by fast. Almost the entire James Bond catalog of films was added to the Netflix streaming library on Aug. 2. And now, the films will expire in just three days on Sept. 2. This won't be the first time films from the James Bond franchise appeared then reappeared on Netflix, but it definitely seems like the shortest license period. Nevertheless, you can catch any one of the Bond films from 1962 up until 1999, including Thunderball (1965), On Her Majesty's Secret Service (1969), Octopussy (1983), and GoldenEye (1995).
Netflix is even streaming the unauthorized Bond film Never Say Never Again (1983) starring Sean Connery and Kim Basinger.
The Bond films currently on Netflix stop at The World Is Not Enough starring Pierce Brosnan. After that, the next film with Brosnan, Die Another Day, and the three succeeding Bond films starring Daniel Craig are not currently available to stream.
The fun ends on Sunday, Sept. 2. But if you start right now you might have time to get through a 007 marathon.
James Bond films streaming on Netflix Aug. 2 – Sept. 2, 2013
Dr. No (1962)
From Russia with Love (1963)
Goldfinger (1964)
Thunderball (1965)
You Only Live Twice (1967)
On Her Majesty's Secret Service (1969)
Diamonds Are Forever (1971)
Live and Let Die (1973)
The Man with the Golden Gun (1974)
The Spy Who Loved Me (1977)
Moonraker (1979)
For Your Eyes Only (1981)
Octopussy (1983)
A View to a Kill (1985)
The Living Daylights (1987)
Licence to Kill (1989)
GoldenEye (1995)
Tomorrow Never Dies (1997)
The World Is Not Enough (1999)
Bond films NOT streaming on Netflix:
Die Another Day (2002)
Casino Royale (2006)
Quantum of Solace (2008)
Skyfall (2013)