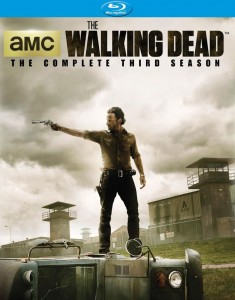 What's new on Blu-ray Disc today? We might start with The Great Gatsby starring Leonardo DiCaprio, Tobey Maguire and Carey Mulligan. The film is available in both Blu-ray and Blu-ray 3D editions from Warner Bros., each of which come with a DVD and UltraViolet Digital Copy you can download from a partnering UV cloud service.
Michael Bay's Pain & Gain starring Mark Wahlberg and Dwayne Johnson also hits stores today. The Blu-ray edition from Paramount includes BD, DVD, and Digital Copy, but what might make this most appealing is the BD's Dolby TrueHD 7.1 surround sound audio track.
AMC's The Walking Dead: The Complete Third Season has also been released to Blu-ray Disc. The 5-Disc set includes all 16 episodes of the 3rd season which aired from Oct. 2012 through Mar. 2013. Bonus content includes audio commentaries, deleted scenes, and never-before-seen featurettes. A French audio track is included, as well as Spanish subtitles. There's also a Limited Edition available, which comes in special zombie packaging with props, figures and memorabilia (see packaging below).
Check out our Blu-ray picks for the week below. And, here's a link to all new Blu-ray Disc releases available this week at Amazon.
New on Blu-ray Disc, Aug. 27, 2017
The Great Gatsby (Blu-ray/Blu-ray 3D)
Pain & Gain
The Walking Dead: The Complete Third Season
Sons of Anarchy: Season Five
The Many Adventures of Winnie the Pooh
Dark Angel (I Come in Peace)
Super Buddies
To Be or Not to Be (Criterion Collection)
Q: The Winged Serpent
Guilty Crown: Complete Series, Part 2
The Reluctant Fundamentalist
Kon-Tiki
And Then There Were None
At Any Price
Stranded
Prime Suspect: The Complete Collection