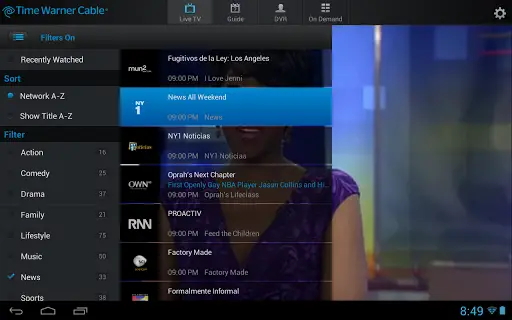 Microsoft's dream of the Xbox becoming the 'One' box for all your entertainment needs just got a little bit closer to reality, as Time Warner Cable launches an app that provides up to 300 live TV channels. We first heard about the app late in June, which gives Xbox Live Gold members access to the channels they subscribe to with TWC. The free app, downloadable from the Xbox Live Marketplace, can be authenticated using your Time Warner Cable TV service username and password.
The app features the ability to navigate via Kinect voice and gesture control, and search for TV shows and movies by channels, names and genres.
Upon launch the Xbox app lacks support for On Demand content, but Microsoft and Time Warner say they are working on incorporating VOD, which would make Xbox the first device to offer both live broadcast television and Time Warner Cable On Demand.
The TWC TV app from Time Warner Cable has already been launched for PCs, Roku, Apple iOS and Android devices. With the introduction of the app for Xbox 360, TWC joins Verizon FiOS TV in offering live television programming through the console. Comcast's XFINITY On Demand app is also available for Xbox, but doesn't stream live TV.
Network specific apps for the Xbox 360 include HBO Go, ESPN, MLB.TV, MTV, NBA Game Time, NHL GameCenter, Syfy, Today, Univision, and WSJ Live among others.
All of the apps from Time Warner Cable support HD quality when available.
You can bet Microsoft is partnering with TWC to bring the live TV app to the Xbox One when it launches in November, as the company attempts to take on Apple TV and Google TV.