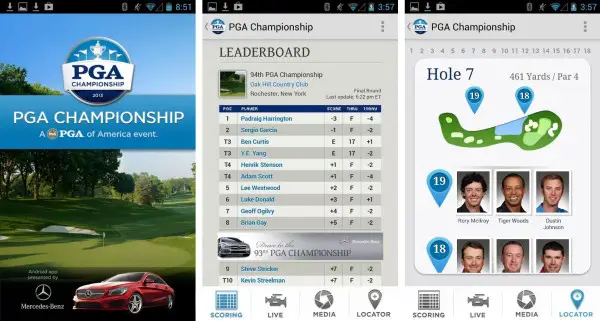 The PGA of America and Turner Sports have updated the PGA Championship app just in time for the 95th PGA Championship from Oak Hill Country Club in Rochester, NY. The app for Apple iOS and Android devices provides free streaming video coverage, leaderboard and scorecards, news and video highlights, and customizable alerts.
The Apple iOS Version 5.0.2 (Updated Aug. 8, 2013) fixes bugs in the scorecard and LIVE video registration, as well as optimizes performance monitoring and provides an improved media item display.
The Android Version 1.0.9 (Updated Aug. 9, 2013) fixes bugs that were reported by fans during round 1 of play, including LIVE video support for more devices and all around improved performance.
The PGA Championship app does not yet support Windows 8 devices.