Last week, largely unnoticed save for the most geekcentric online journals and blogs, was the release of Google's take on streaming for HDTVs, the Google Chromecast wireless dongle that will retail for $35 but offers more potential at the moment, than a real alternative to a Roku, PS3, Apple TV or other streaming media device.  However, on the surface it might seem this is indeed a viable option to stream HD content to your HDTV, it comes with a few caveats.
The device has some huge pluses compared to most streaming media devices in that is doesn't even have a footprint, not even an Apple TV hockey puck-sized footprint.  We've come a long way from the days when a media player (Laserdisc, Beta, VHS, DVD, even Blu-ray) took up enough space to actually demand a big entertainment center to accommodate its shape or size.  Nowadays, and Apple TV's tiny set-top device proves this most adeptly, a home media player is no longer about buttons, jog shuttle controls, tracking wheels and blinking 12:00 LCD displays, but rather, with form following function, it's about elegant onscreen navigation and a robust array of streaming apps such as Google Play, Netflix, Amazon, Hulu Plus, YouTube, MLB, and HBO Go.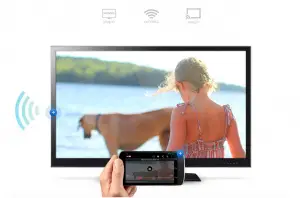 Chromecast, with its minimalist reduction in both set-top players and their sidekick remotes, achieves the greatest reduction in size and isn't even technically "set-top".  It's a dongle, larger than today's thumbdrives, but with the same overall form factor.  Though it is a wireless device, plugging directly into the HDTV's HDMI port, it does require power… achieved with a short USB cable that Google thoughtfully includes with the device; however, if you have an TV older than the most current LCD/plasma models, then you may need to actually run a longer USB cable to a wall outlet (Google includes an AC adapter, but the USB cable is perhaps too short to reach a wall outlet away from the TV).  While the thumbdrive form of the device makes it easy to plug directly into an available HDMI port, Google thoughtfully includes a very short HDMI extension, since some Wi-Fi interference apparently can be had when the device is directly input into the TV (some HDTVs will exhibit this problem, others will not, but Google's taking no chances of customer complaints here it seems).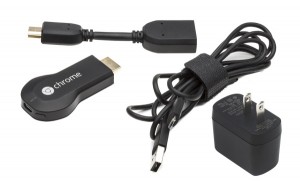 Unlike Roku and other set-top devices, including Apple TV, the Chromecast does not stream content directly from the device itself, but rather acts as a wireless conduit to stream content from your Android smartphone, tablet or computer.  Though the device currently works mainly with Android OS, iPhones/iPads can also playback content with Chromecast (not that it matters since Apple iDevices all currently come with Apple's AirPlay technology that does essentially the same thing), it will work with any computer browser, mainly through Google's Chrome browser, though other browsers may work eventually).  Being pocket-sized and made for mobile, the Chromecast seems like it would be a perfect travel solution for hotel visits and such, though you'll need a very good, if not excellent, Wi-Fi signal for smooth HD streaming.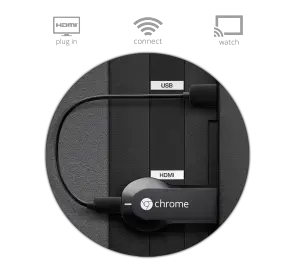 It's this distinction that makes Chromecast actually more like Apple's AirPlay option for streaming computer and mobile device content to HDTVs, than it is an actual media player.  No content streams directly from the dongle, but it allows you to stream from your devices in order to avoid small-screen syndrome when watching your favorite content.  From a computer browser it will stream almost any content such as YouTube, Netflix, Rdio, HBO Go, some photo slideshow sites, even the sketchiest Flash video site, though reportedly, Apple's QuickTime won't work as of yet, so you can't view Apple Trailers or other Apple QuickTime-based content, not that there is much of it on the web compared to other video codecs.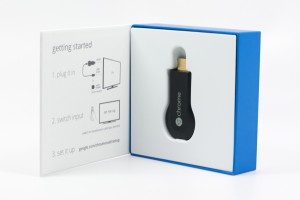 Since Chromecast is largely tied to other devices for playback, all navigation and standard remote control activities are also controlled by the device used for content streaming.  There is no remote control included with Chromecast, as all control is accessed through the online app being used… So, for instance, when playing back Netflix-related content, it's the Netflix's app onboard controls that are used to rewind, fast forward, pause, etc.  A "cast" button will appear on the computer or mobile device used, and once toggled, the stream will engage the Chromecast device and playback on your larger HD display.
Google's Chromecast, inexpensive when compared to other devices, is a somewhat unique alternative to the other current solutions for streaming video to an HDTV.  While not as elegant as an all-in-one device, at the very least it's the streaming solution many Android users have been seeking and should be a big hit with that audience.  Those already playing in Apple's walled-garden should worry to much about not running out to order one from Google's site or run to a nearby retailer, they already have AirPlay if their not using Apple TV, and are well served by that technology as more and more HDTV manufacturers (and audio hardware manufacturers) incorporate it into their display firmware.  Still, this is a chance for Google to prove that they are in the streaming game going forward, and that small screen viewing is no longer the only option for Android users to experience their favorite online content.
About the Author:
Christian Hokenson enjoys knife throwing, growing exotic mosses, and that warm spot where the sun shines through the box. You can also find him on Google+.