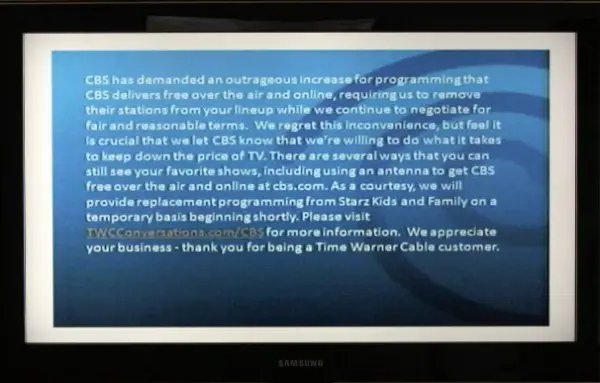 It's official.  Having threatened their own customers for weeks, Time Warner has finally put CBS on blackout status in three major U.S. markets: Los Angeles, New York and Dallas.  Other metropolitan areas affected include Chicago, Boston, Pittsburgh, Denver, and Detroit.   Time Warner's dispute with CBS over transmission fees for all CBS-owned stations and affiliates.  The collapse in negotiations over rebroadcast fees, rights and as well as initial transmission fees highlight the growing disparity in business philosophies over content and distribution that have caused numerous blackouts of channels across a spectrum of cable and satellite providers, forcing consumers to choose sides in a battle they do not want to be a part of.
As the New York Times notes, at approximately 2pm today, customers in Los Angeles and New York had their CBS programming replaced with a message from Time Warner putting customers on notice that CBS was the villain, having increased their transmission fees beyond what Time Warner feels is fair (and beyond what they know their customers are willing to bear as they pass on the cost).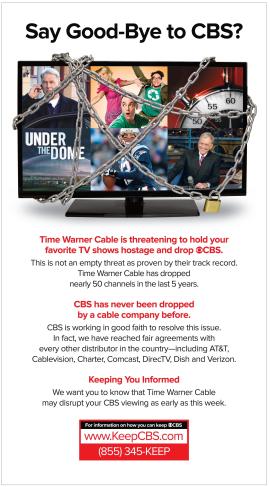 Negotiations broke down when Time Warner would not allow CBS an extension of the current contract while more discussions were scheduled to be held.  Time Warner has pulled all CBS programming including local area affiliates (in the Los Angeles area KCBS and KTLA are off the air as I write this).  Even more devastating for Time Warner customers than missing the next Under The Dome will be the absence of Showtime channels (as this happened on a Friday, you can pretty much kiss the next episode of Dexter goodbye).
CBS has already said this was a poorly chosen alternative to more negotiations, while Time Warner has let customers know they can expect more Starz Kids and Family programming in lieu of their favorite shows.