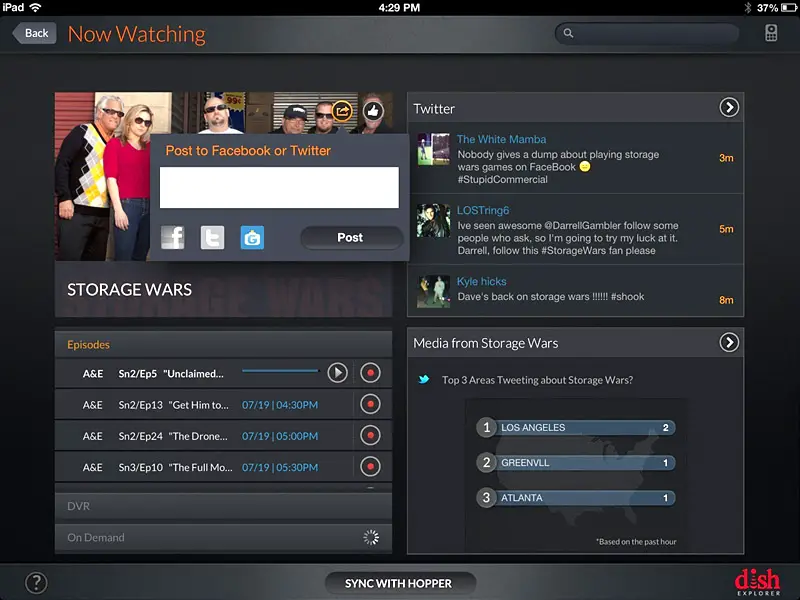 Dish Network has released an updated version of the DISH Explorer app for Apple iPad that includes the integration of features from the social networking site GetGlue. The app will now let you check-in while watching TV shows, sports events and movies to get media feeds from your connections on GetGlue. You can also have the app automatically load your Facebook and Twitter feeds, with pictures, comments, videos and retweets.
"DISH has proven to be an innovative developer, and is an ideal fit to be the first to integrate our media feeds," said Evan Krauss, President of GetGlue.
GetGlue partners include studios and networks such as 20th Century Fox, ABC Family, Disney, ESPN, FOX, HBO, Universal Pictures, and Warner Bros. The company boasts real-time activity for approximately 35,000 shows and 50,000 movies, as well as current sporting events.
Other features of the DISH Explorer update include new filtering for On Demand content, media from your favorite shows, and unidentified app bug fixes. The Version 1.4/28.6MB app is available for download from Apple iTunes and is compatible with iPads running iOS 6.0 or later.
The DISH Explorer second-screen app was introduced for the Hopper DVR set-top-box at CES 2013 earlier this year.
Read more Dish Network news on our dedicated page. LIKE our Facebook page to never miss an important Dish update.