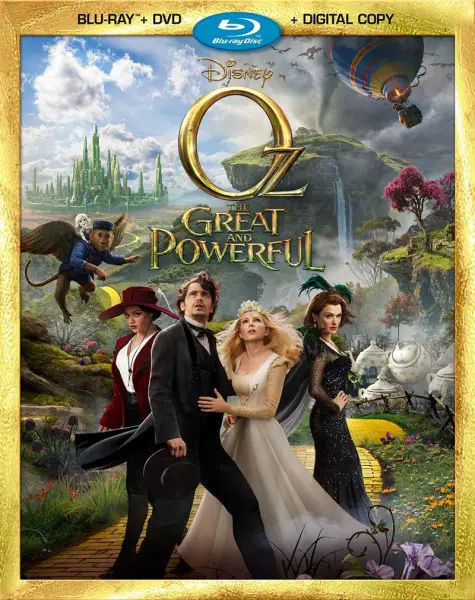 What's new on Blu-ray and UltraViolet this week? Let's start with Oz the Great and Powerful — the 3D remake [homage and prequel to] the 1939 classic film Wizard of Oz. The Blu-ray is available in several editions including a 3-Disc Blu-ray 3D/Blu-ray/DVD/Digital Copy, 2-Disc Blu-ray/DVD/Digital Copy, and Single-Disc Blu-ray/Digital Copy. Unfortunately the release from Disney Home Entertainment does not include an UltraViolet copy to download from the cloud, but there is a Digital Copy included on the included DVD.
Paramount's Hansel & Gretel: Witch Hunters also hits shelves this week — and in multiple formats. The film is available in a 2-Disc Unrated Cut on Blu-ray Disc with DVD, Digital Copy, and UltraViolet copy, as well as a 3-Disc Blu-ray 3D combo edition with all the mentioned formats. (See the disc package photos below so you know which disc to look for.)
Other titles this week include Rockshow starring Paul McCartney, Snitch starring Dwayne Johnson,
House of Cards: The Complete First Season, The Newsroom: The Complete First Season, and a 40th Anniversary Edition of Bruce Lee in Enter the Dragon.
New Blu-ray Disc releases, June 11
Oz the Great and Powerful (Blu-ray, DVD, Digital Copy)
Oz the Great and Powerful (Blu-ray 3D, Blu-ray, DVD, Digital Copy)
Hansel & Gretel: Witch Hunters, Unrated Cut (Blu-ray 3D & Blu-ray, DVD, Digital Copy, UltraViolet)
Hansel & Gretel: Witch Hunters, Unrated Cut (Blu-ray, DVD, Digital Copy, UltraViolet)
Snitch
Lilo & Stitch / Lilo & Stitch: Stitch Has A Glitch Two-Movie Collection (Three Disc Blu-ray, DVD Combo)
The Emperor's New Groove / Kronk's New Groove: Two-Movie Collection (Three Disc Blu-ray, DVD Combo)
The Newsroom: The Complete First Season (Blu-ray/DVD Combo + Digital Copy)
Atlantis: The Lost Empire / Atlantis: Milo's Return: Two-Movie Collection (Three Disc Blu-ray, DVD Combo)
Enter the Dragon (40th Anniversary Edition)
Killing Lincoln (Blu-ray, DVD, Digital Copy)