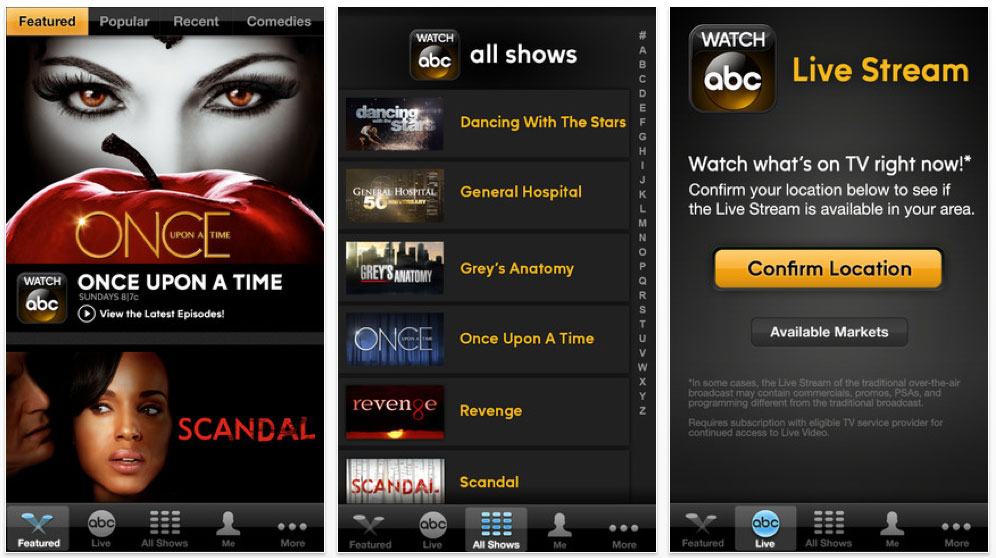 ABC launched the Watch ABC app today that streams live broadcasts of both local and network programming to the Apple iPhone and iPad. The app replaces the former ABC Player app — following the same branding as Watch Disney and Watch ESPN. ABC says the app will support additional devices in the near future, including Android-based phones and tablets. Starting today, users in ABC's New York City and Philadelphia markets are able to stream live-programming from local stations, a first for major broadcasters. Shows already secured in ABC-owned markets include all local newscasts and syndicated series such as "Katie" and "Grey's Anatomy" among others. However, the network noted some program substitutions may occur.
ABC also announced plans to expand the Watch ABC live streaming feature to its six other owned stations this summer (Los Angeles, Chicago, San Francisco, Houston, Fresno, and Raleigh-Duram), and to negotiate with the over 200 affiliate-owned stations throughout the country.
Beginning July 1, the Watch ABC app will have to be authenticated by a subscriber's cable or satellite subscription for live streaming, even though local broadcasts are free over-the-air.
ABC introduced the Watch ABC app and live feature today at their upfront presentation in New York. The ads on Watch ABC will not be the same ads seen on broadcast television, but rather the types of digital ads seen on abc.com.