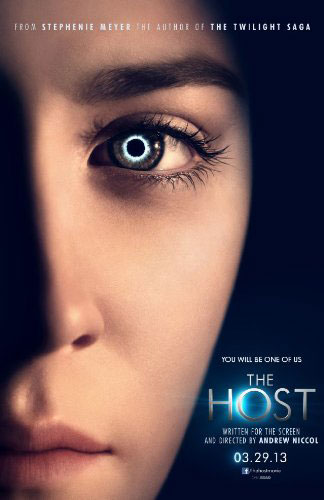 Universal Studios has announced the release date for The Host on Blu-ray Disc & DVD will be July 9, 2013, predated by an early digital release on June 25. The Blu-ray Combo Pack will contain the usual Blu-ray, DVD, Digital and UltraViolet combination, along with deleted scenes, featurette "Bringing The Host to Life," and feature commentaries from Author/Producer Stephenie Meyer (Twilight Saga), Screenwriter/Director Andrew Niccol, and Producer Nick Wechsler.
The Host stars Saoirse Ronan, Diane Kruger, Frances Fisher, Jake Abel, Max Irons and William Hurt. The film is based on The New York Times #1 bestselling novel by Stephenie Meyer, in which an alien race takes over the Earth and its inhabitants.
The Host (PG-13) released to theaters on March 29th, 2013 and has earned $26M US ($57M Worldwide).
Source: Universal Studios