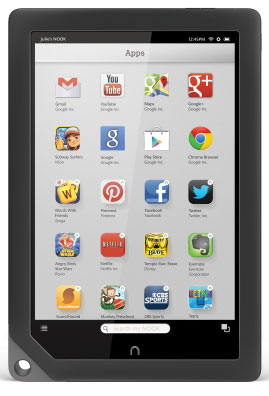 If you're a NOOK HD owner your device just got a little more fun, as Barnes & Noble announced the NOOK HD and NOOK HD+ tablets now have access to Android apps on Google Play. The app choices for NOOK HD devices on Google Play number over 700,000, including popular applications like Facebook, Twitter, and Pinterest, as well as thousands of games and other apps NOOK HDs were previously not privy to. The 7″ (NOOK HD) and 9″ (NOOK HD+) tablets are also compatible with Google products such as Chrome, Gmail, Google Play Music, YouTube, Google Search and Google Maps.
"NOOK HD and NOOK HD+ are must-see products for entertainment lovers looking for high-quality tablets at incredibly low prices," said William Lynch, chief executive officer of Barnes & Noble.
Wi-Fi connected NOOK HD software will need to updated to utilize the Google Play apps. NOOK owners in the US or UK can also visit www.NOOK.com/support or www.NOOK.co.uk/support for more info.
The NOOK HD and NOOK HD+ tablets retail for $199 and and $269, respectively.