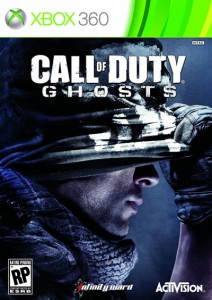 Activision has officially announced Call of Duty: Ghosts, powered by the next generation engine from Infinity Ward, will release for Xbox 360, PlayStation 3, and PC, as well as next generation platforms (PlayStation 4,"Xbox 720") on November 5, 2013. However, the press release from Activision made no mention of a Wii edition. And, no details were revealed about what next the generation versions of the game would offer beyond current console versions.
"Ghosts delivers an all-new story, all-new characters, an all-new Call of Duty world, all powered by a next generation Call of Duty engine, which is a leap forward for the franchise," said Eric Hirshberg, CEO of Activision Publishing, Inc.
"Everyone was expecting us to make Modern Warfare 4, which would have been the safe thing to do. But we're not resting on our laurels," said Mark Rubin, executive producer of developer Infinity Ward.
Microsoft will offer an exclusive first look at Call of Duty: Ghosts on May 21 at 10 a.m. PDT on Xbox.com, Xbox LIVE and SPIKE TV.