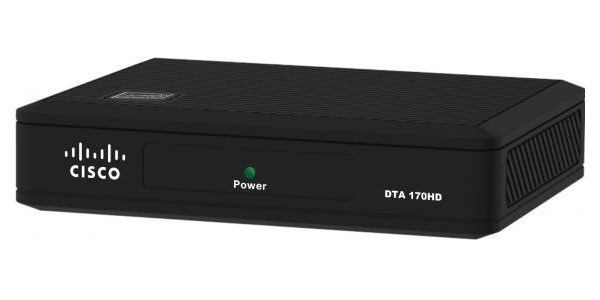 Free ride over for TWC customers grabbing basic analog channels via coaxial.
Time Warner Cable customers in the New York City area will no longer be able to receive analog channels from the Basic TV package, as the provider moves to switch to an all-digital platform. Starting in Mount Vernon, Staten Island, and Bergen County, NJ, customers will need a digital-to-analog converter to see the channels once the conversion is completed. This means you'll no longer be able to plug your coaxial cable directly into your TV or VCR, a method long embraced by many New Yorkers. The good news is Time Warner will ship an HD-compatible Cisco DTA (Digital Transport Adapter) to customers for free. And, you won't be charged for the adapter until 2015, at which point subscribers be charged .99 per month per adapter.
TWC says the digital conversion is meant to free up bandwidth, allowing them to fit 10-12 digital channels (or 3 HD channels) into a space that was occupied by one analog channel. And, you'll no doubt get a higher quality image (it's digital, after all), free of noise and analog interference. But, in converting to digital Time Warner is also taking advantage of an FCC ruling that allows them to encrypt the signals of their Basic TV package. This will give TWC a better handle on how many TVs are actually connected to their service, hence filtering out any freeloading sets outside a customer's service plan.
TWC customers can order the adapter in several different ways, including through the website at TWC.com/digitaladapter, via telephone at 1-855-286-1736, in-person at a local TWC store, or calling to have a technician install it.
http://youtu.be/CB0pkSx8aQo
Source: Time Warner Cable Untangled via Multichannel