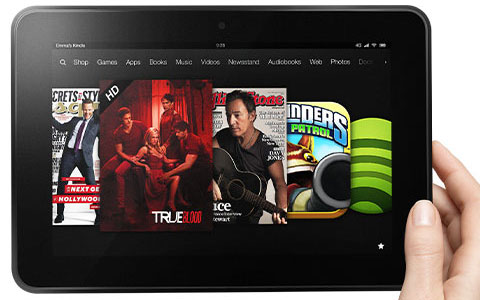 Select AT&T stores will start selling the Kindle Fire HD 8.9″ with 4G LTE service on Friday, April 5. AT&T is the first carrier to offer service with the Kindle Fire HD, also giving customers the ability to add a second tablet for $10 per month. The Kindle model, originally released by Amazon last fall, boasts the highest resolution of any Kindle at 1920×1200 (254 pixels-per-inch). AT&T will sell the 32GB tablet for $399 (the same retail price you'll find on Amazon), but customers who sign a two-year data plan agreement will get up to $150 the purchase price.
"Combining our 4G LTE with Kindle Fire HD's rich features at an incredible price point yields a great value and experience for our customers," said Chris Penrose , senior vice president of emerging devices, AT&T.
To add more than one device for an extra $10 per month, new and existing customers can connect the Kindle Fire HD with AT&T Mobile Share plans which allow sharing of data across multiple compatible devices. Alternatively, customers can choose between AT&T individual or family plans.