As of today (though technically it launched last Thursday), the beta testing of Redbox Instant by Verizon ends and the public roll-out of the service begins… and it's a lot like Netflix's approach in its early stages.  Redbox will be offering a limited streaming library of 4,600 titles via a free trial, mostly the kind of the cut-rate, B-movie and mockbuster variety that Netflix more or less pioneered.  It's clear that, at this stage, Redbox and Verizon view instant streaming more as an adjunct offering to disc rentals via Redbox's ubiquitous firetruck red kiosks rather than a service on par with Netflix Instant or Amazon Prime.
The service will work with mobile devices (iOS and Android apps have been released, though jailbroken iOS devices will be out of luck in attempting to run them) and will work with the Xbox gaming console exclusively for now, though PS3 and Wii users probably shouldn't have long to wait for their own native app (start the petitions now, is my suggestion).  The free trial is offered for a month of service (unlimited streaming movies, plus credits toward four DVDs at any Redbox kiosk (Blu-ray will cost $1 extra at the kiosks), and once the trial period ends subscribers will be billed $8.00 per month for both unlimited streaming and kiosk credits for four DVDs (single night rental) each month.  Unlimited streaming plus Blu-ray rental is priced at $9.00 per month, a small upcharge for better resolution on HDTVs.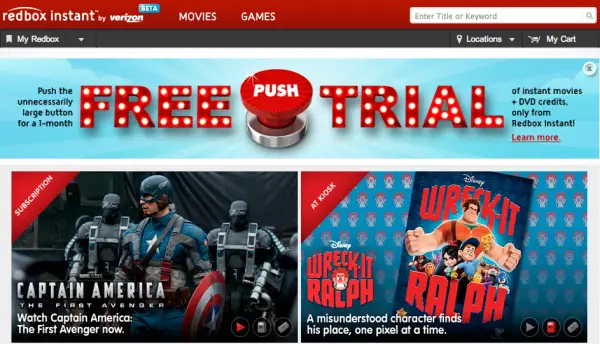 Though the respective services tend to share the same titles in their libraries (the image below appears to show recent Oscar-winning releases on Redbox Instant, yet these are not the actual feature films, but rather a pair of infotainment interviews with the casts of Flight and Silver Linings Playbook), Netflix is making a strong move into original programming with its first hit, House Of Cards, already having a strong impact among subscribers and critics (as well as Wall St.), while shaking the foundations of television-specific content to the ground, causing ripples of consternation in both the cable and entertainment industries.  Amazon is also moving forward with plans for original content and may already be putting shows into production that will feature the likes of John Goodman and Bill Murray.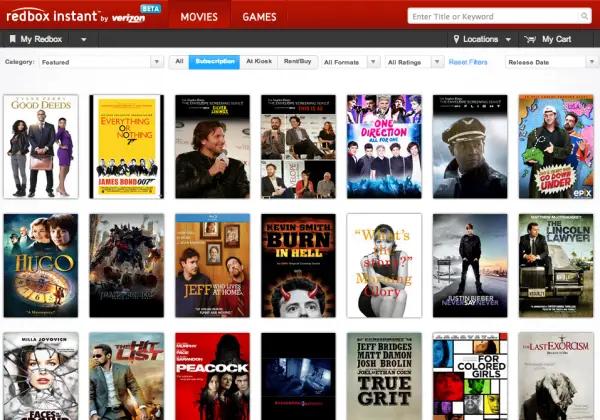 Don't look for original programming from Redbox Instant for the foreseeable future, but do look for Redbox to cut the kind of exclusive deals that are highly valued amongst the established streaming players: Netflix, Amazon and Hulu.  With content licensing rebroadcasting fees already sky high and showing no signs of hitting the ceiling (if there is such a thing in the home entertainment marketplace), Redbox may be miscalculating the changing nature of video-on-demand and the premium placed on original content aimed at a fractured viewership that increasingly craves the kind of stuff they can't get on regular TV, and that cable giants like HBO have long been providing.  If anything, it's the crown jewels (everything from groundbreaking shows like The Sopranos to artistic masterpieces like The Wire to the current pop love affair with Game Of Thrones) that cable nets like HBO and Showtime have developed that makes Reed Hastings lie awake at night, grinding his teeth with envy… and it's those very crown jewels that motivate him and other new media head honchos to take the gamble, roll the dice and create new programming based on top-secret algorithms and massive amounts of consumer viewing data.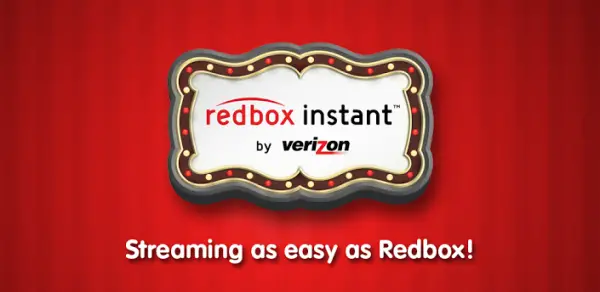 Redbox Instant CEO Shawn Stickland seems to want to play it safe, however.  In an Gigaom article, Strickland is quoted as saying that the typical Redbox consumer still values physical discs and does not mind schleping to the local market to hit up the Redbox kiosk to pick out newer titles for a night's home entertainment.  Though it took Netflix and Amazon years to create a treasure trove of subscriber data, Stickland's somewhat coy statements do certainly imply that one day Redbox may take the same gamble on original content.  For now, consumers can enjoy another alternative for streaming movies (not so much on the TV content), and put yet another nail in the coffin of the paleolithic cable industry.