Roku has announced the next upgrade in its line of streaming media players.  The Roku 3 will be on sale for $99.99 (plus shipping) starting today and offer upgrades to the processor, user interface and ports.  The Roku 3 will come with a new motion-based controller for games and UI navigation, and give users the ability to plug a set of earbuds (or other headphones) directly into the controller for private listening of TV shows, movies or games.
Unlike other players in the Roku line (the LT, HD and 2 XD), this media player will only work with HDTVs.  Previous media players from Roku had the ability to connect to older televisions by way of composite or component cables (y'know, red/white/yellow or red/green/blue), but the newest model seems to offer an HDMI-out port only with up to 1080p resolution.  Since HDTVs have taken over family rooms (and bedrooms) across the nation, this won't be too much of an issue.
Included with the Roku 3
Enhanced remote with headphone jack and motion control for games
In-ear headphones
Free Angry Birds Space game
Two AA batteries
Power adapter
Get Started guide (also available online)
90-day manufacturer warranty
Does not include HDMI cable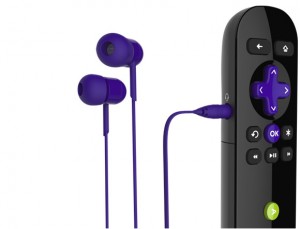 While motion control gets a big shout-out in the Roku 3 specs, the biggest improvements are under the hood with a speedier processor and slicker, more capable search functions that allow users to search all channels on the player such as Netflix, Hulu Plus, VUDU, Amazon Instant Video, HBO-Go and Crackle (the enhanced software that drives the new search features will be available to all Roku 2, LT and HD (model #2500) customers via a free upgrade as of May, 2013.  No word yet on a mobile app upgrade).  One of the biggest bugaboos of streaming media players are the often daunting navigation steps it takes to find something worthy of viewing, and then actually playing the content without lag.  Roku has always been at the top of their game here, so an improvement to something that already worked fairly well is a highlight of the new player and something to consider when shopping streaming media consoles.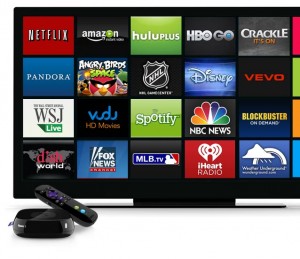 The new Roku 3 streaming media player will be initially available via Roku.com and Amazon.com (no link yet available).