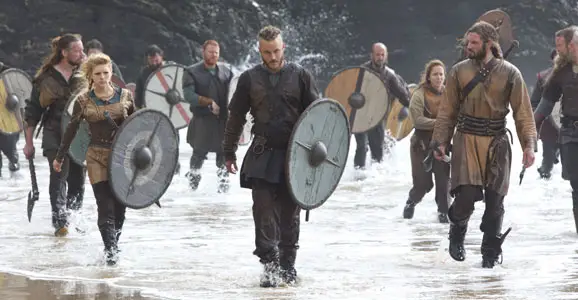 [NOTE: Season 3 of Vikings starts Feb. 19, 2014 at 10/9C]
Feeling Nordic lately? We thought you'd want to know about History's premiere of Vikings tonight at 10 p.m./9 p.m. Central. Vikings is centered on the hero Ragnar Lothbrok (Travis Fimmel) who according to legend was a direct descendant of Odin. The series attempts to present vikings as more than just the stereotypical ship sailing warriors we've grown accustomed to, but rather an ambitious and adventurous civilization with strong family ties. The series was created and written by Michael Hirst who also wrote Elizabeth, and created and wrote The Tudors.
Vikings is slated for at least nine episodes starting tonight with "Rites of Passage." You can watch a sneak peak at History.com or just tune-in tonight for the premiere.
History Channel will also be broadcasting a preview of their new series The Bible tonight at 8 p.m./7 p.m. Central.
History (formerly known as The History Channel) can be found on DirecTV 269 (HD/SD), Dish Network 120 (HD/SD), Verizon FiOS 628 (HD), AT&T U-verse 1256 (HD), and most cable TV providers (check your local listings).
[UPDATE] It appears History is broadcasting Vikings several times this evening starting at 8pm Central.