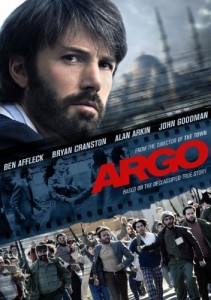 Warner Bros.' Argo is slated to release on Blu-ray Disc and DVD this coming Tuesday, Feb. 19. But if you want to watch it ahead of time jump to Amazon and purchase the digital title for $14.99. Instant Video from Amazon is available for playback on PCs, Xbox 360, PS3, Kindle Fire HD, Roku, TiVO and other compatible devices. Argo was directed by and stars Ben Affleck, along with Bryan Cranston and John Goodman.
Description:
Based on real events, the dramatic thriller Argo chronicles the life-or-death covert operation to rescue six Americans, which unfolded behind the scenes of the Iran hostage crisis. Bonus content includes an inside look at real-life experiences endured by actual houseguests, President Jimmy Carter, and Tony Mendez.
Apple (iTunes) and Vudu are also selling and renting the title pre-Blu-ray & DVD release.