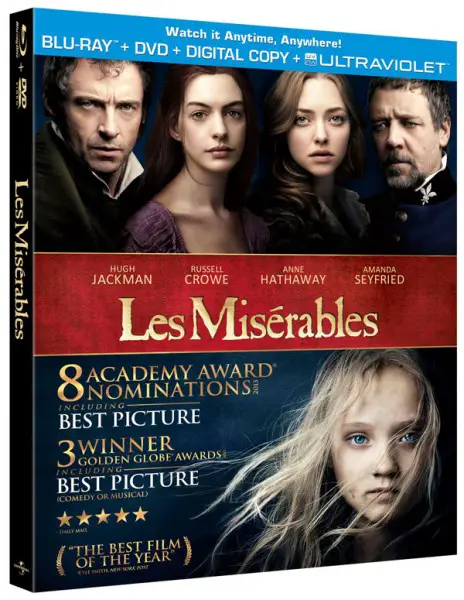 Universal Studios has announced the release date for Les Miserables on Blu-ray Disc, DVD, Digital Copy and UltraViolet will be Mar. 22, 2013. The Oscar-nominated musical stars Hugh Jackman, Russell Crowe, and Anne Hathaway among an all-star cast. Universal's Combo Pack includes the formats mentioned above, along with loads of bonus materials such as cast interviews, featurettes, commentaries, behind-the-scenes production footage, and the mini-documentary "The Original Masterwork: Victor Hugo's Les Miserables." (See all features listed below.)
The Blu-ray Disc is formatted in 1080p at 1.85:1 widescreen aspect ratio with audio options in English DTS-HD Master Audio 7.1 or DTS Surround 5.1. The DVD is formatted in 1.85:1 anamorphic widescreen with Dolby Digital 5.1.
Les Miserables Two-Disc Blu-ray Combo Pack carries a retail price of $34.99 — and is now available to pre-order from Amazon for $23.99 with Amazon's Pre-order Price Guarantee.
Les Miserables Two-Disc Blu-ray Combo Pack Special Features:
Blu-ray™ disc unleashes the power of your HDTV and is the best way to watch movies at home, featuring perfect hi-def picture and hi-def sound.
DVD offers the flexibility and convenience of playing movies in more places, both at home and away.
Digital Copy provides consumers with a choice of formats from a variety of partners, including options to watch on iPhone®, Android™, computers and more.
UltraViolet™ is a revolutionary new way for consumers to collect their movies and TV shows in the cloud. UltraViolet™ lets consumers instantly stream and download to tablets, smartphones, computers and TVs. Now available in both the United States and Canada.
Bonus Features Exclusive to the Blu-rayTM
Les Miserables Singing Live:  The star-studded cast and production team discuss how the daunting challenge of singing live rather than lip-syncing to pre-recorded tracks ultimately gave them the creative freedom to deliver nuanced, emotionally powerful performances.
Battle at the Barricade:  Director Tom Hooper wanted the dramatic building of the barricade to be as visceral and intense as possible, so he had his actors build it in real time, literally hurling furniture out of windows to construct an actual barricade. This featurette takes an in-depth look at the creation and filming of all the action on this remarkable set.
The West End Connection:  Meet the "godfather" of the original stage production of Les Mis erables, renowned West End producer Cameron Mackintosh, who was deeply involved in the filming, as well as former Les Mis e rables, theatrical stars who were thrilled to appear in supporting roles in the current film.
Les Miserables on Location:  Filming rather than staging Les Miserables presents the opportunity to shoot in real world locations: a massive dry dock on the coast of England, a beautiful underground chapel in the heart of London and the ancient city of Winchester.  Members of the cast and crew talk about what it was like to find and work in these incredible locations.
Bonus Features on Both the Blu-rayTM and DVD
T he Stars of Les Miserables :  Director Tom Hooper talks about casting the iconic characters, and the actors discuss why it was important to them to be a part of this groundbreaking version ofLes Mis e rables .
Creating the Perfect Paris:  Production designer Eve Stewart created a massive Paris set featuring real cobblestones and running water. Take an intricate look into the detailed recreation of these Paris streets that no longer exist in today's world.
The Original Masterwork: Victor Hugo's Les Miserables :  This mini-documentary takes a look at the historical backdrop and universal themes of Hugo's classic, and how the filmmakers mined the novel to enrich the look and feel of the film.
Feature Commentary with Director Tom Hooper