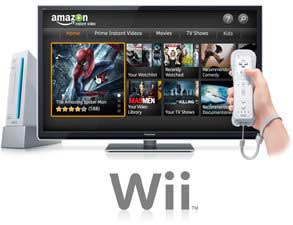 Previously launched for the Wii U, the Amazon Instant Video app is now available for Nintendo's classic Wii console. Features of the app include smart lists (such as "Recently Watched" and "Watchlist"), "Your Video Library" (showing all your purchased titles from Amazon), Parental Controls and Kid Zone, and Whispersync (allowing you to switch from one device to another seamlessly).
The Amazon Instant Video library consists of more than 145,000 movies and TV episodes, with 33,000 titles available to stream for free with a Prime subscription. The app can be downloaded free-of-charge from the Wii Shop Channel.
"With more than 40 million [Wii] units purchased in the U.S. alone, the addition of Amazon Instant Video means more choice across a significant portion of the American entertainment landscape," said Duncan Orrell-Jones, Senior Vice President, Network Business, Nintendo of America.
Current popular movie titles available from Amazon Instant Video include The Dark Knight Rises, Brave, Taken 2, ParaNorman, and Frankenweenie. TV show titles include fan hits such as The Walking Dead, American Horror Story, and Big Bang Theory.