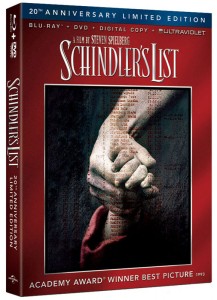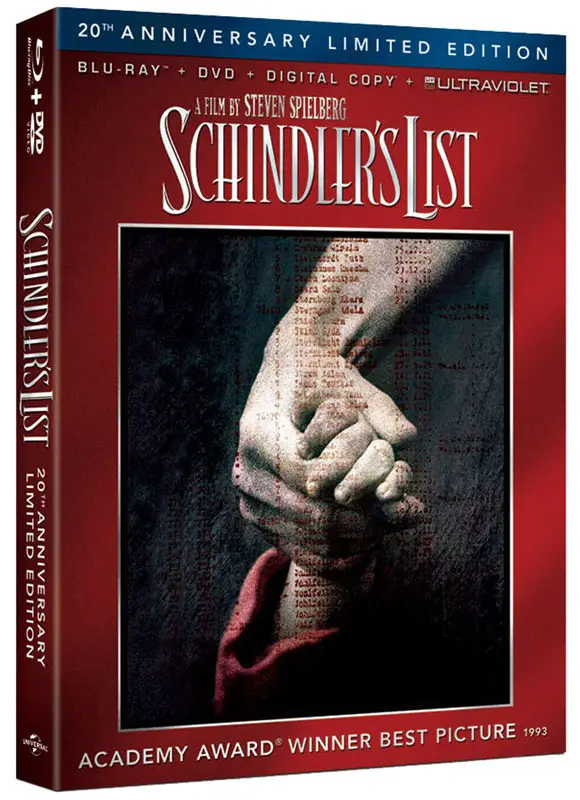 Following on the heels of Steven Spielberg's Lincoln winning a Golden Globe last night for Best Actor in a Drama (Daniel Day-Lewis), comes the news Universal will release Schindler's List on Blu-ray for the first time, celebrating the film's 20th Anniversary since it's theatrical premiere in 1993. Spielberg supervised the digital restoration from the original print negatives, which has been transferred to high-definition Blu-ray Disc at 1080p resolution and 1.85:1 widescreen aspect ratio. The Blu-ray soundtrack includes English DTS-HD Master Audio 5.1 as well as Spanish and French DTS Digital Surround 5.1. 
The Schindler's List 20th Anniversary Limited Edition (to be released on March 5, 2013) will offer several ways to watch the film including Blu-ray, DVD, Digital Copy, and access code for UltraViolet. Extras include bonus features (on both the Blu-ray and DVD) "Voices from the List" (a documentary with Holocaust survivors) and "USC Shoah Foundation Story with Steven Spielberg" (which describes how Spielberg was inspired to establish the foundation). Total runtime for the Blu-ray Disc is 3 hours and 16 minutes.
"Schindler's List is a rare masterpiece of filmmaking that remains as riveting and moving today as it was for moviegoers 20 years ago," said Craig Kornblau , President of Universal Studios Home Entertainment.
Schindler's List won seven Oscars including Best Director and Best Picture (Steven Spielberg). The film stars Liam Neeson, Ben Kingsley, Ralph Fiennes, and Caroline Goodall among the all-star cast.
UPDATE: Schindler's List is now available to pre-order from Amazon for $24.49.