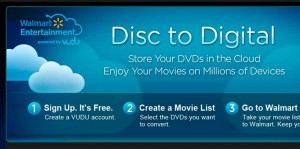 This week at CES Walmart brought news of the launch of their Disc-to-Digital In-Home service, along with the announcement of a new Facebook app that will let users view movie content and influence what movies Walmart sells in-store and online. Walmart's Disc-to-Digital service was, of course, launched about a year ago. But the service (which is powered by VUDU) has been extended to let users acquire UltraViolet digital copies of their movies and TV shows at home rather than in-store only. Standard DVDs and Blu-ray cost $2 per conversion, while upgrades to HD quality digital titles cost $5 per conversion. Walmart is also offering 10 free movies to new customers who sign up.
"We see a great opportunity to provide our customers with accessible and affordable tools to help them bring their movie collections into the digital age," said John Aden, executive vice president for general merchandising, Walmart U.S.
Participating studios include: DreamWorks Animation, Lionsgate, MGM Studios, Paramount Home Media Distribution, Sony Pictures Home Entertainment, Twentieth Century Fox Home Entertainment, Universal Studios Home Entertainment and Warner Bros. Home Entertainment.
In terms of social engagement, Walmart's upcoming Facebook app will let users vote on which movies will be sold online and in-stores, as well as share titles with friends, redeem special promotions, and get access to exclusive content. Walmart says their Entertainment Facebook App will launch in time for the The Twilight Saga: Breaking Dawn – Part 2 pre-sale period in February.