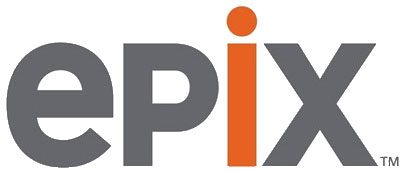 Cox Communications, DISH and Verizon FiOS will be offering a free preview of Epix channels from Friday, Jan. 4 through Thursday, Jan. 17, 2013. The previews will include both Standard Definition (480i) and High Definition (1080i) versions of the channels. The Epix network consists of 4 separate channels that include Epix, Epix2, Epix3, and Epix Drive-In (only available in SD). It appears the free channel previews will include both Epix and Epix2. See service provider channel listings below.
Epix just recently premiered The Hunger Games on New Years Day. Other titles now playing on Epix include The Expendables, Captain America, Good Deeds, Young Adult, and Abduction.
Epix is a joint venture between Viacom, MGM, and Lionsgate that broadcasts blockbuster films, documentaries, music concerts, comedy, and sports events. The premium network was launched in Oct. 2009.
Epix channel on DISH, Verizon, and Cox Communications
Dish Network
380 Epix (SD/HD)
381 Epix2 (SD/HD)
382 Epix3 (HD)
292 Epix Drive-In (SD)
Verizon FiOS
Epix (Ch. 395)
Epix HD (Ch. 895)
Epix2 HD (Ch. 896)
Cox Communications
Check your channel guide