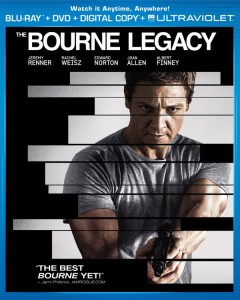 What movies are headed for release on UltraViolet? Check the list below for upcoming titles within the next couple months. A few of those titles include The Bourne Legacy (Dec. 11, 2012), Trouble with the Curve, (Dec. 21, 2012), Hit & Run, (Jan. 8, 2013), Seven Psychopaths(Jan. 29, 2013), and Battlestar Galactica: Blood & Chrome (Feb. 19, 2013). Not all newly released movies will include an UltraViolet copy, because not all studios have partnered with the UV alliance.
You can find UltraViolet bundled with Blu-ray Discs from partnering studios such as Paramount, Universal, and Sony. The format allows you to access a title for which you have a UV access code (included with disc purchase), and download or watch the movie online. The format is just over a year old, with new titles added to the UV library each week. We thought we'd give a heads up for titles headed for UltraViolet release in the next couple months.
Also, check out our growing list of UltraViolet titles. If we've missed any, please contact us.
Upcoming movies in UltraViolet format:
Ted – Dec. 11, 2012
Ice Age: Continental Drift – Dec. 11, 2012
The Bourne Legacy – Dec. 11, 2012
Total Recall – Dec. 18, 2012
Premium Rush – Dec. 21, 2012
Trouble with the Curve – Dec. 21, 2012
Looper – Dec. 31, 2012
Dredd – Jan. 8, 2013
Hit & Run – Jan. 8, 2013
For a Good Time, Call… – Jan. 22, 2013
Hotel Transylvania 3D – Jan. 29, 2013
Seven Psychopaths – Jan. 29, 2013
Batman: The Dark Knight Returns Part 2 – Jan. 29, 2013
Battlestar Galactica: Blood & Chrome – Feb. 19, 2013