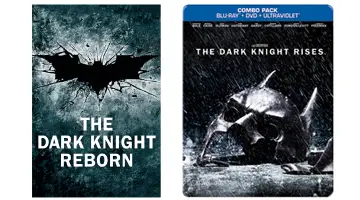 Batman fans might want to take a look at Best Buy's exclusive offer for the upcoming release of The Dark Knight Rises. When you pre-order the 'TDKR' SteelBook Combo you also get to download the exclusive 35-minute documentary "The Dark Knight Reborn" (viewable in HD) before the release date. Trick is, the downloadable content is only viewable via a Best Buy CinemaNow account. CinemaNow accounts are easy enough to sign up for, but they do require a payment method for buying and renting films.
Best Buy is selling pre-orders of The Dark Knight Rises with Blu-ray, DVD, and UltraViolet copy along with the free exclusive 'Dark Knight Reborn Documentary' for $29.99. When adding to cart, the two items appear as two different products. If you happen to remove The Dark Knight Rises from your cart you'll notice the "Dark Knight Reborn" resolves to its list price of $14.99.
The Dark Knight Rises hits shelves and download servers on Dec. 4, 2012.