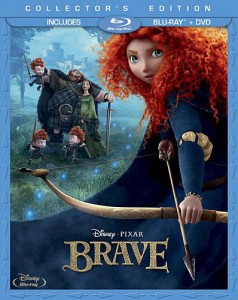 It's that time of year when most home media yields to the latest 'Call of Duty' release. But this year Disney wasn't afraid to put up it's animated hit Brave up against the leading the video game franchise. I mean, you can pick up a copy of Brave at the same time as 'Black Ops 2,' can't you? Disney/Pixar's Brave is available in several different editions including 3-Disc Collector's Edition and 5-Disc Ultimate Collector's Edition, both with Blu-ray, DVD and Digital Copies but the latter with a 3D Blu-ray copy.
This week a fully restored version of Lawrence of Arabia also hits shelves. The 2-disc edition features Blu-ray exclusives "Picture-in-Graphic 'Secrets of Arabia,'" and "Peter O'Toole Revisits 'Lawrence of Arabia.'" On disc two there are also five featurettes, newsreel of the NY Premiere, a restored "Making of Lawrence of Arabia" documentary, advertising campaigns and theatrical trailer. The film is also available in 50th Anniversary Collector's Edition (see pick below) with Soundtrack CS, hardcover book, numbered 70mm film cell, and collector's package.
Check out our new Blu-ray picks below or view all new Blu-ray Disc releases available this week at Amazon.
New on Blu-ray Disc Nov. 13, 2012
Brave (Three-Disc Collector's Edition: Blu-ray / DVD)
Brave (Five-Disc Ultimate Collector's Edition: Blu-ray 3D / Blu-ray / DVD + Digital Copy)
Lawrence of Arabia (Restored Version)
Lawrence of Arabia (50th Anniversary Collector's Edition)
Pixar Short Films Collection 2
The Watch
Hellsing Ultimate: Volumes 5-8 Collection
Friends: The Complete Series
Coldplay: Live 2012 (CD/Blu-Ray)
Watchmen Collector's Edition: Ultimate Cut + Graphic Novel
Harry Potter & The Deathly Hallows: Part 1 & 2
Bill & Ted's Excellent Adventure
Doctor Who: Series Seven – Part One
Empire of the Sun
Teenage Mutant Ninja Turtles / Teenage Mutant Ninja Turtles II: The Secret of the Ooze / Teenage Mutant Ninja Turtles III: Turtles in Time (Triple Feature)