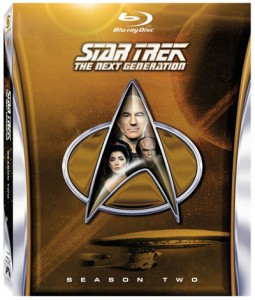 CBS & Paramount have released details for Star Trek: The Next Generation – Season Two on Blu-ray Disc hitting shelves on December 4, 2012. That's not too far away! The BDs are formatted in high-definition 1080p with 7.1 DTS-HD Master Audio (English only), as well as multiple languages in mono. Most juicy of all the features included with Season Two could be the first ever Star Trek extended episode "The Measure of a Man." There's also a never-before-seen roundtable chat with eight cast members including Patrick Stewart, Jonathan Frakes, LeVar Burton, Marina Sirtis, Brent Spiner, Michael Dorn, Gates McFadden, and Wil Wheaton.
The five-disc collection includes all 22 episodes of the second season of The Next Generation, as well as 120 minutes of brand new special features. Among them, a two-part, in-depth documentary on the making of Season 2 entitled "Making It So: Continuing Star Trek: The Next Generation" – Strange New Worlds (Part 1), and New Life and New Civilizations (Part 2). There's also a gag reel created from newly recovered 35mm film elements that were transferred to high-definition for the first time.
Well, we can't mention every bonus in TNG Season Two in just a couple paragraphs, so open the press release link below for full details. If you want to pre-order, Amazon is currently offering Star Trek: The Next Generation – Season Two for $114 (List: $129) with a pre-order price guarantee.
Source: CBS