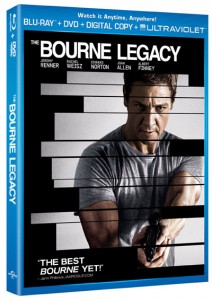 Universal Studios has announced the home video release date for The Bourne Legacy will be December 11, 2012. The film will be available to watch in several formats including Blu-ray, DVD, Digital Copy, and UltraViolet. Both the Blu-ray and DVD editions come with deleted scenes, two production featurettes, and feature commentaries. The Blu-ray Combo edition comes with five additional featurettes, UltraViolet, Digital Copy, BD-LIVE, and pocketBLU. The hi-def Blu-ray edition is formatted in 2.40:1 aspect ratio with optional DTS master audio 7.1 surround sound. The Bourne Legacy stars Jeremy Renner as agent Aaron Cross, and Rachel Weisz as Dr. Marta Shearing. MSRP for the Blu-ray Combo is $34.99. You can pre-order
 from Amazon for $23.99.
Exclusive Blu-rayTM Bonus Features
Enter Aaron Cross: Discover how Jeremy Renner prepared for the role of Aaron Cross.
Crossing Continents: Legacy on Location—From the frigid snow peaks of Canada to the teeming urban streets of Manila, no location was out of bounds as a potential backdrop in The Bourne Legacy .
Man vs. Wolf­: A look at the training and choreography it took to pull off the wolf sequence.
Wolf Sequence Test: See the action of the thrilling wolf sequence at work.
Moving Targets: Aaron and Marta: Director Tony Gilroy, stars Jeremy Renner, Rachel Weisz and others shed light on the two characters who propel the film's intense combination of drama and action. They reveal their complementary styles of working and discuss how they forged the evolving, emotional heart of the film together.
UltraViolet™: The revolutionary new way for consumers to collect movies and TV shows in the cloud to instantly stream and download to computers, tablets and smartphones. Consumers can now truly enjoy their movies anytime, anywhere on the platform of their choice.
Digital Copy: Viewers can redeem a digital version of the full-length movie from a choice of retail partners to watch on an array of electronics and portable devices including computers, iPad®, iPhone®, iPod™ touch, Android™ and more!
pocket BLU™ App: The popular free pocket BLU™ app for smartphones is now even better with newly updated versions for iPad®, Android™ tablets, PC and Macintosh computers, with features made especially to take advantage of the devices' larger screens and high resolution displays.
Advanced Remote Control: A sleek, elegant new way to operate your Blu-ray™ player. Users can navigate through menus, playback and BD-Live™ functions with ease.
Video Timeline: Users can easily bring up the video timeline, allowing them to instantly access any point in the film.
Mobile-To-Go: Users can unlock a selection of bonus content with their Blu-ray™ discs to save to their device or to stream from anywhere there is a Wi-Fi network, enabling them to enjoy content on the go, anytime, anywhere.
Browse Titles: Users will have access to a complete list of pocket BLU™-enabled titles available and coming to Blu-ray™. They can view free previews and see what additional content is available to unlock on their device.
Keyboard: Entering data is fast and easy with your device's intuitive keyboard.
BD-LIVE™: Access the BD-Live™ Center through your Internet-connected player to access the latest trailers, exclusive content and more!
Bonus Features on Both the Blu-rayTM and DVD
Deleted Scenes
Re-Bourne: Find out how co-writer/director Tony Gilroy, star Jeremy Renner and the rest of the creative team expanded the Bourne universe into a new film that reveals a larger, even more dangerous conspiracy.
Capturing Chaos: The Motorbike Chase: Watch Jeremy Renner, Rachel Weisz and 2nd unit director Dan Bradley film the thrilling climactic motorcycle chase through the chaotic and insanely congested streets of Manila.
Feature Commentary with director/co-writer Tony Gilroy, co-writer Dan Gilroy, editor John Gilroy, director of photography Robert Elswit, second Unit director Dan Bradley and production designer Kevin Thompson.