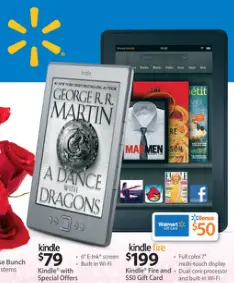 Wal-Mart announced today a that it will no longer be selling Amazon's popular Kindle devices.  Via a company memo issued to store managers, the parent company Wal-Mart Stores, Inc. said that their Wal-Mart and Sams's Club big box stores will no longer carry the devices nor will they be available through either store's website.
Amazon had no comment, though they may be still smarting from a similar tactic Target Corp. did the same thing back in early May.  Many saw that as a possible attempt to shake up Amazon's online dominance (wherein brick and mortar retailers were often treated like Amazon's showroom), or a way for Target to pick a side in the burgeoning device wars… this time siding with Apple's popular line of mobile devices.
Like Target, Wal-Mart will continue to sell Apple products including the iPad, iPhone and iPod line of mobile products, and they will also continue to sell Barnes & Noble's Nook line of e-reader/web-ready mobile devices.
The memo, dated Wednesday, advised store managers that the company had
"…recently made the business decision to not carry Amazon tablets and eReaders beyond our existing inventory and purchase commitments… This includes all Amazon Kindle models current and recently announced."
As of today the Wal-Mart and Sam's Club online stores do not list the Kindle for sale.  How Amazon responds to this development may signal how they plan to counter dominance of other devices in addition to the Nook and iPad such as Samsung's line of mobile tablets.