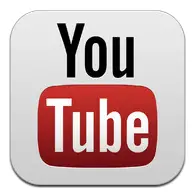 YouTube and Apple… they used to go together like raspberry preserves and chunky peanut butter.  They never exactly meshed together, but perfection be damned, at least they played nice until Google got fully invested in the mobile marketplace with their own OS and phone hardware.  Apple sought to dominate the early smartphone market and, in order to do this, allowed app versions of popular Google products on the iPhone (since the original's inception in 2007).  Even as Google began to develop their own smartphone OS and license it for use, Apple still included pre-installed versions of Google's Maps and YouTube, the highly popular video hosting service.
As Apple and Google wrestle to be the leader in the mobile marketplace, the relationship has strained considerably and Apple has since said that their license for certain Google products (Maps/YouTube) will expire and Apple will no longer include Google apps as native along with the iPhone's other pre-installed apps.  Instead, Apple is doing what Apple does best and plans on re-inventing maps with its own robust app, but for video it hasn't said too much about going native.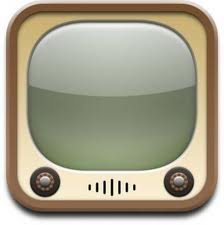 The native YouTube app for iPhone was never really Google's baby anyway… it was developed by Apple using Google's common API to develop something that would bypass the iPhone's lack of Flash compatibility and use the iPhone's native MP4 format for video streaming (at the time of the original iPhone's release YouTube videos were normally available using Flash in any desktop browser, but nowadays HTML5 is proving to be the burgeoning standard for streaming video).  Google could not update the old YouTube app without Apple being involved in the process, nor could it combine the publicly uploaded videos and licensed content from other providers with Google AdWords for YouTube as it does via the desktop browser experience.  Google was loath to use iAds (giving Apple revenue and the upper hand in its own advertising deals) and Apple was never going to let Google monetize their advertising via iOS.
The day Apple announced its plans (without mentioning what would replace Google's YouTube app, though it did say essentially
that iPhone users could create a web app using Safari for iOS (not a half bad solution considering YouTube's Safari experience on iOS was world's better than the Apple designed app)) people were left wondering about Google's next move.  Apple simply has nothing to offer that even comes close to the YouTube experience for publicly hosting videos, and most major websites still choose YouTube when embedding content onto their webpages (Vimeo, we know, you're trying).
Fast forward to today, and Google has announced and rolled-out a full-blown YouTube app that not only harnesses all the best aspects of the desktop browser experience, but also takes a design cue from Facebook's iPhone app with an ease and elegance of navigation that the older app never really nailed down.  The app allows for Google account login, full access to subscription content as well as easy access to one's own content.  Additionally, it has simple a settings screen, a button for adding channels, and a list of popular YouTube categories to browse through… all hidden behind a sliding screen (the FB influence) that then allows for scrolling through content.  Unlike the native app, the new app allows for comments to be left while videos are in play, easier sharing features for Facebook, Twitter and Google+ as well as most of the features Google reserved for its own native Android app.  Last but not least, the new app has the ability to stream to a set of HD speakers using Apple's AirPlay (can also be used for HDTV if using the Apple TV device).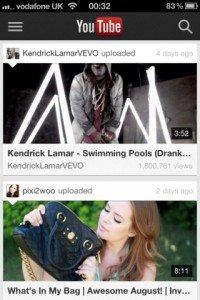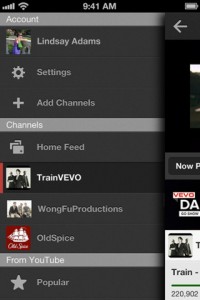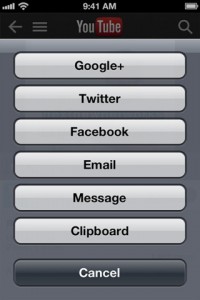 With a more contemporary design around its API, Google's new app also has the ability to run Google ads from within the video player before the actual video one wants to see is played… and that means that content formerly out of reach to iPhone users (such as licensed content from music labels and movie studios) can now be searched for, found and played without hassle.  The full YouTube experience is pretty much now in the palm of an iPhone users hands, and only a day before Apple announces the iPhone5 and releases their next big iOS upgrade in Fall.
iPad users can expect their own version of the app soon, and Google has indicated that now that they have the ability to upgrade the app when they wish, users can expect more features and innovations (as well as the possibility of full-length, licensed movies and TV content from Google Play.  Expect more to come.