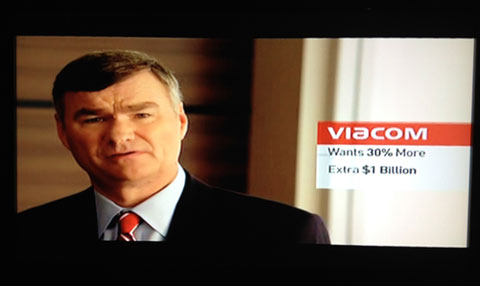 It happened. DIRECTV has lost 17 channels from the Viacom network due to a carriage dispute which failed to be settled by midnight tonight. DIRECTV knew the lockout was coming, after Viacom sent a letter demanding resolution by the end of day, July 11. The blackout started on East Coast time as well, leaving West Coast customers with no benefit to being 3 hours behind.
The channels pulled from the DIRECTV lineup include BET, CMT, Comedy Central, Logo, MTV, MTV2, Nickelodeon, Nick Jr., NickToons, Palladia, Spike, TeenNick, TV Land, VH1, and VH1 Classic. The HD feeds of those channels were also pulled.
If you tune-in to a Viacom channel on DIRECTV, you'll probably see the following message: "IMPORTANT CUSTOMER NOTICE. Viacom, the owner of this channel, forced DIRECTV to suspend it despite our many requests to keep it on. We're working to bring it back as soon as possible without an unfair increase in your bill.
Other channels are broadcasting a message from DIRECTV CEO Mike White regarding the dispute, or a mix channel with several live networks to tune into.
In a statement tonight Viacom says, "We proposed a fair deal that amounted to an increase of only a couple pennies per day, per subscriber, and we remained willing to negotiate that deal right up to this evening's deadline." However, Viacom claims "DIRECTV refused to engage in meaningful conversation."
DIRECTV says Viacom is asking customers to pay a 30% increase in subscription costs, which amounts to an extra one billion dollars.